As an Interior Designer, I'm often asked where I get my inspiration from. Answer: I get my inspiration from Everywhere and Every Day! My inspiration comes from magazines, other designer's work, fashion, nature and the list goes on. Near the top of the inspiration list though is travel, because every people group, every country and every culture is fascinating and unique!
One country that really fascinated and inspired me when we holidayed there several years ago was Morocco, and it continues to inspire me. There's such a wealth of tradition and history woven into the very fabric of daily life that I find so inspiring.
Morocco is an inspirational paradise for lovers of the handmade & crafted. Wandering through the Medina, which is the old, walled part of North African towns, you'll see the artisans at work. Traditional methods that have stood the test of time are passed down from generation to generation and used to create beautiful hand-made items of clothing or objects for the home. The skill & precision is wonderful to watch.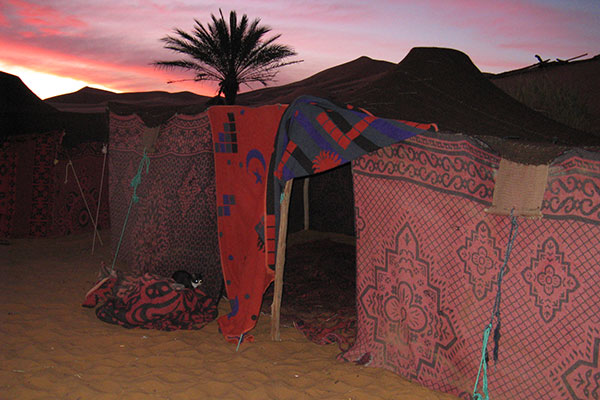 During our time in Morocco we stayed in Marrakesh, the Atlas Mountains, where we stayed a night in tents in the Sahara Desert (second photo), and Fez. Fez was the capital of Morocco until 1925 and has the oldest continuously functioning university in the world. Everywhere you look you see beautiful mosaics on the exteriors and interiors of buildings.
While there, we also visited a leather tannery. While it must be said that the smell wasn't great, but the products produced there are some of the most sought after in the world.
Looking for some more travel inspiration? Our recent road trip to the Riverina, NSW, allowed us to contribute in a small way to those doing it tough in drought affected areas.
Read more:  Our Road Trip Our Road Trip 2
Love Europe?  We do too! Read about our time in Vienna and in Paris – City of Lights in 2018.