After Griffith, we headed into the final days of our week-long road trip. One of the main reasons for this road trip was to get a better perspective on how the people in drought-affected areas of the Riverina and its environs, were coping. We wanted to invest into these areas in a small way, with our finances and our encouragement.
The next destination in our road trip was Junee. As it got closer to lunch time though we decided to stop at Narrandera for a bite to eat. Imagine my surprise when we discovered The Red Door Café and Juadine Interiors in the same building. Even better, you had to walk through the interiors store to get to the café behind it! This place is a must-see. The food is wonderful and the store amazing.
We arrived late afternoon in Junee and instantly fell in love with the architecture including the Broadway Museum which is housed in the old Broadway Hotel, Monte Cristo Homestead, reputably the most haunted house in Australia, and the elegant Railway Square, with its French Renaissance style railway station, built in 1881.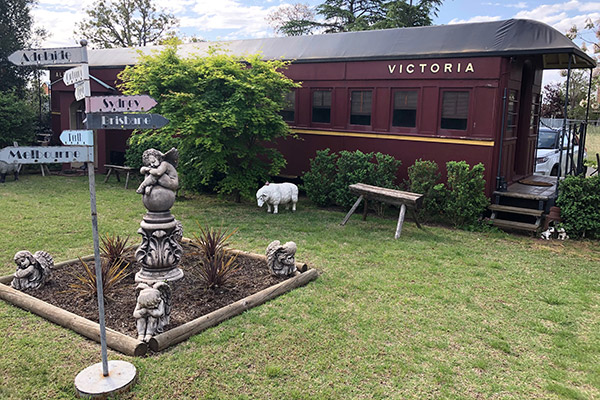 Our bedroom for the night was an old, disused railway carriage Bed and Breakfast. It was a novel and delightful way to spend the night!
Next morning, we headed straight the Junee Licorice and Chocolate Factory located at the restored Junee Flour Mill. If you have a sweet tooth, this is the place to go. Their products are all organic too.
The last stop on the road trip was Gundagai, a classic Australian country town on the Murrumbidgee River. After wandering through the town, we spent some time in the Historical Museum. To round the day off, we did the Gundagai River Walk then made our way to the final stopover of our road trip – the Church House Bed and Breakfast.
Next morning, we headed towards Sydney. Our road trip had come to an end and it had been quite a week. Our aim had been to, in some small way, encourage the people from the Riverina Region and gain a better understanding of what they're going through. In turn, they have enriched our lives so much more than we could have imagined.