Published by Emily Kirkwood
Posted on
Almost everyone will go through a renovation during their lifetime. Whether it's a major transformation or just a small touch-up, at some point during our lives we realise our home doesn't quite fit our needs and it needs an upgrade. For this reason, in this blog we decided to share some tips for renovating a house.
Tips for renovating an entire house
If you've bought, or are looking to buy, a house that needs a knock-down rebuild then we love this blog by Homes To Love with 42 great tips on renovating. For complete overhauls, it's best to think of this as almost the same as a new build. Being realistic about timing and cost is crucial from the outset, unfortunately TV show 'The Block' has a bit to answer for in terms of setting unrealistic expectations on re-builds!!
Selecting the right renovation team is key too. We recommend checking out our blogs on choosing the right professionals and trades and this one on how an Interior Designer can help with the process. Construction works can be intense for sure, but with the right planning and the right team, they shouldn't need to be too stressful.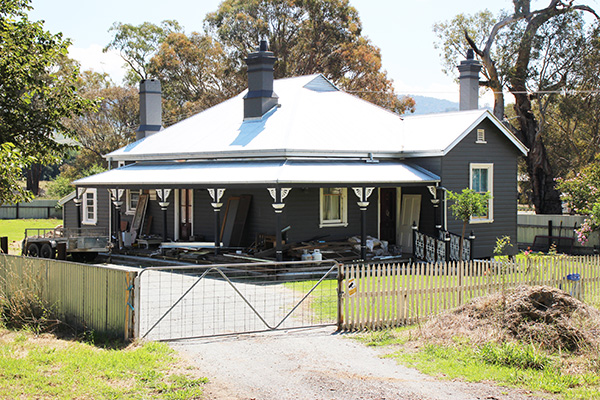 Smaller renovation tips
If it's an older home we suggest being sympathetic to the era of the house. Adding a modern-looking extension to an antiquated house will look out of place, and feel disjointed from the rest of the house. It's important that a renovation feels as though it's always been a part of the house.
With older homes you also need to be prepared there may be some unknowns that could impact on cost and timing. Finding asbestos, poor insulation or structural issues, can all be common issues when builders are opening things up. Whilst this can be frustrating, unfortunately it's part of the deal with renovations. Our advice is to try to control the things than you can, and to take deep breaths when you find surprises!
Think about how you can re-use or recycle materials or pieces. This can be beneficial in two ways, firstly it's better for the environment, and secondly, salvaging existing elements can also help with ensuring the look and feel of the space remains consistent. One of my clients is looking to use recycled hardwood in their kitchen renovation to add a country rustic element to their French Provincial kitchen. We've looked at recycled design recently on the blog, have a read to get some ideas of unique ways to re-use what you have.
We're working on a few projects at the moment with renovations, so stay tuned for further updates on the Blog and Residential Projects page.