Almost everyone will go through renovating a house during their lifetime. Whether it's a major transformation or just a small touch-up, at some point during our lives we realise our home doesn't quite fit our needs and it needs an upgrade. For this reason, in this blog we decided to share somehome renovation ideas and tips.
Tips for renovating an entire house
If you've bought, or are looking to buy, a house that needs a knock-down rebuild then we love this blog by Homes To Love with 42 great tips on renovating. For complete overhauls, it's best to think of this as almost the same as a new build. Being realistic about timing and cost is crucial from the outset, unfortunately TV show 'The Block' has a bit to answer for in terms of setting unrealistic expectations on re-builds!!
When renovating a house,selecting the right renovation team is key too. We recommend checking out our blogs on choosing the right professionals and trades and this one on how an Interior Designer can help with the process. Construction works can be intense for sure, but with the right planning and the right team, they shouldn't need to be too stressful.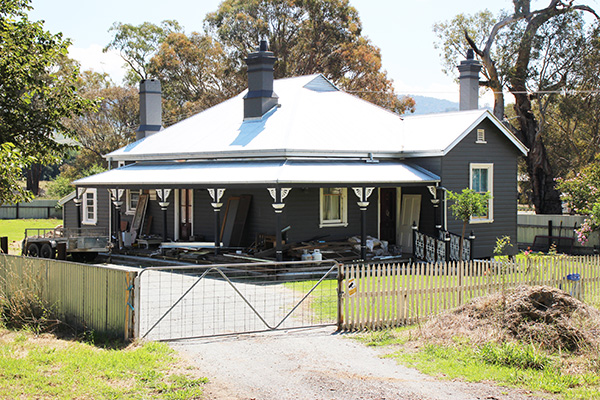 House Renovation Ideas – The five things to do first
1. Check whether there are any restrictions on development of the property
Are there any regulatory restrictions on changing the look of, or extending the property – important to know this from the outset so you don't waste time and money on designs and planning on things that will not be permitted.
Visit your local Council offices and talk to one of the Council planners about what you can and can't do under the relevant planning scheme. Know up front what you can and can't do so you can plan your renovation to fit any restrictions.
2. Work out your Budget
Before you speak with interior designers or builders about your renovation, you need to know what your budget is. You need to know what you can afford to set that amount for your design and builder limit.
You want to make sure that your expectations are realistic with your budget as if you set the budget too low and that results in having to select lower levels of fixtures and fittings, then you may end up being disappointed with the end result. Equally, if you stretched your available budget to the builder a little to get nicer fixtures and fittings and there are unexpected costs along the way, then you may find yourself in a bit of trouble at the end.
3. Think about what the most important things are to achieve for you and your lifestyle with this renovation
Why are you renovating? Do you need more space? Do you need a home that functions better for your lifestyle? What changes will make the home more functional, comfortable and easier to live in to enhance your lifestyle.
Make a list of your "must haves" and "nice to haves" so you can focus on what is most important to you.
4. Research the current property market
Even if you have no intention of selling in the near future, considering whether the renovation will add value to the home or outweigh the cost. Speak with real estate agents about the current value of similar properties in the area to allow you to make an informed decision on what your renovation includes and the costs.
5. Engage an Interior Designer
Having an experienced interior designer working with you and on your behalf will ensure you have the best team working on your renovation. An Interior Designer will have an extensive network of qualified trades to design and deliver your dream renovation. They can help guide you through every stage of the renovation process and liaise on your behalf with builders and all trades and suppliers.
With access to wholesale suppliers an Interior Designer will be able to help you source more unique ranges of fixtures, fittings and furnishings at more affordable prices.
Renovating a house – smaller renovation tips
If it's an older home we suggest being sympathetic to the era of the house. Adding a modern-looking extension to an antiquated house can look out of place, and feel disjointed from the rest of the house. It's important that a renovation or extension sits comfortably and complements the rest of the house.
With older homes you also need to be prepared there may be some unknowns that could impact on cost and timing. Finding asbestos, poor insulation or structural issues, can all be common issues when builders are opening things up. Whilst this can be frustrating, unfortunately it's part of the deal with renovations. Our advice is to try to control the things than you can, and to take deep breaths when you find surprises!
Think about how you can re-use or recycle materials or pieces. This can be beneficial in two ways, firstly it's better for the environment, and secondly, salvaging existing elements can also help with ensuring the look and feel of the space remains consistent. One of my clients is looking to use recycled hardwood in their kitchen renovation to add a country rustic element to their French Provincial kitchen. We've looked at recycled design recently on the blog, have a read to get some ideas of unique ways to re-use what you have.
Benefits of Renovation – you get to:
Stay comfortable in your beloved neighbourhood and home while enhancing your living space
Enjoy modern upgrades with floor plan layouts, features, fixtures and fittings
Make improvements to lighting, storage and living spaces
Create a good functioning home that has your personality injected into it and that fits your lifestyle
Increase the value of your home
We're working on a few projects at the moment with renovations, so stay tuned for further updates on the Blog and Residential Projects page.
If you have plans for renovating a house or any property, get in touch with Lurleen who is an experienced Interior Designer. Her renovation expertise will ensure your project runs smoothly, safely, and to plan so you end up with a beautiful, functional space that fits your lifestyle.