Published by Lurleen Kirkwood
Posted on
So now you've bought land and you're ready to build your new home. Where do you start? To help achieve your desired outcome and enjoy the journey of building a new house, choosing the right professionals and trades is critical.
Before we get into more detail about each profession or trade you will need to build your new house, let's look at the steps to help you find the right team.
How to choose the right professionals and trades
It's easy to find Architects, Interior Designers, and Builders in your local area on the internet. They may advertise in local media or maybe they're friends of friends. But are they any good?
Once you've identified a list of possible design professionals and builders, select no more than 3 and ask to meet with them. Ask them:
How long has the company been operating?
How many houses have they completed?
What are their reviews like? Are they able to give you the contact details of a client who they have completed a project for?
Have they ever had a dispute escalate that needed external assistance to resolve?
This is also a great time to ascertain whether they are really listening to you, the client. At the end of the day it's to be your home so they should be client focused.
Working with qualified industry professionals and trades is really important. Most are listed on industry websites such as Design Institute Australia (DIA), Australian Institute of Architects, Master Builders Association and Department of Fair Trading.
Beware of anyone who:
Wants to "cut a deal" to give a lower price in order to avoid paperwork – this can void warranties on equipment, materials, etc.
Says they're insured but they are not. Ask for an Insurance Company Certificate of Currency.
Masquerades using multiple or wrong ABN numbers or contact phone numbers.
Which Professionals and Trades do I need?
Now let's take a look at just who you need in order to build your new house.
Architect
Architects are skilled in structural issues and creative design. Your Architect will want to have a look at your land to ascertain what can and cannot be done with the block. They will discuss with you the overall style of the house you would like, what practical requirements you have, and your budget.
Based on these initial discussions they will do concept drawings to give you an idea of what your new house may look like. After approval from you, they will then draw up detailed plans and develop final construction plans to submit to council.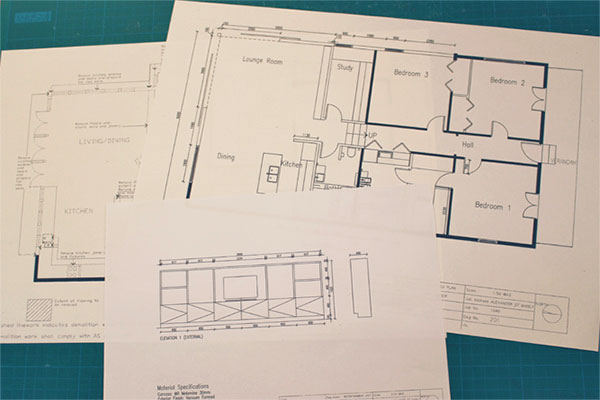 Interior Designer
An Interior Designer should be involved in all aspects of the planning stage through to the finishing stage. They should be skilled in the functionality as well as the look and feel of your new home. They will consult with you and help you establish things such as the overall interior style, colour palettes for rooms, wall and floor finishes, lighting, kitchen bathroom, and laundry cabinetry, bench and vanity tops, tapware, fixtures, and fittings.
Many Interior Designers, including I For Style, are also skilled in specifying the exterior colours and finishes too. This includes the paint colour palette, cladding such as natural stone, colours and finishes for roofing, windows, guttering, facias and downpipes and exterior doors, including your front entry door.
Builder
Choosing the right Builder is equally as important as choosing the right Architect and Interior Designer. Generally speaking, the Builder will manage the project from the beginning to the end of the construction phase, coordinating all of the building work.
A big part of the Builders role is to supervise and coordinate the various trades as well as source, quantify and oversee the delivery of building materials. They should also ensure that the standard of work being done is of the highest quality.
Stayed tuned for our next blog: Part 3 Building a new house – what does an Interior Designer do?
For more about the process of having a new house built click here. To see more photos of the Sawtell project, check out the Contemporary Coastal Style House project. If you're looking for an Interior Designer to support your new build, contact us.