The front door of our client's newly built house in Sawtell, NSW was installed this week, and we are delighted with the result! As with many other innovative elements incorporated throughout this striking house, the front door is truly an artwork in its own right. Three copper metal panels were placed on top of the spotted gum timber veneer used on the front door design. Because of the width of the door, the frame inside had to be metal clad with timber.  Michael from MJW Carpentry & Joinery crafted the front door. See a video of the door. Graham Chaseling was the artisan who created the beautiful copper metal panels –
Mob 0414659 262, grahamechaseling@iprimus.com.au
The Tuckaroo tree depicted on this unique entry door was from a photo taken by my client from the balcony of their previous apartment located in the same street. A keen gardener and lover of trees, she was disappointed that a number of these same trees were removed from a block near their new house to make way for apartments. This gave her the idea of featuring the same species of tree for the entry door.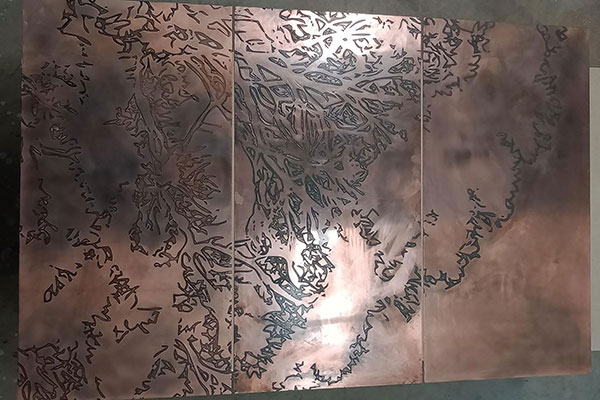 Because the new house is situated very close to the beach it was agreed that rather than having to reseal the copper panels on a regular basis, it was best to allow it to develop a timeworn patina over time. At this stage the two lower panels have gone darker more quickly, possibly as a result of the sun hitting these more.
For more inspiration on statement front entrance doors, have a look at some of our other blogs:
To see an Antique French double entry door, or, if your style is more coloured front doors, a bold aqua blue front door, take a look here: Make a Grand Entrance. 
To see another unique front door, click here Front Doors with Attitude the copper metal front door is key to the overall appearance of this house and can really make a huge difference to the street appeal.
If you are looking for front door design ideas for your new home or renovation, Lurleen can help you design an entry door that will be the focal point of your exterior design and curb appeal. Contact Lurleen or find us on Facebook and Instagram.