Leaders in the world of fashion as well as the interior design industry, there can be no doubt about it, the French exude Style! When it comes to creating stunning interior spaces the French are continually breaking new ground. A few years ago a collaboration between Domo, French furniture manufacturer Grange and renowned interior designer Greg Natale resulted in the creation of a range of furniture with a strong sense of French originality but with an Australian perspective.
Beautiful fabrics are also a hallmark of the French style. These can range from a thoroughly modern sensibility through to old favourites like toiles, checks and stripes to name a few. So just how can you successfully achieve that 'je ne sais quoi' quality that epitomises that French style? Often all that's required is one or two statement pieces e.g. furniture, side drapes or a cushion strategically placed just so, to draw the eye. Or it could be in the form of a stunning chandelier.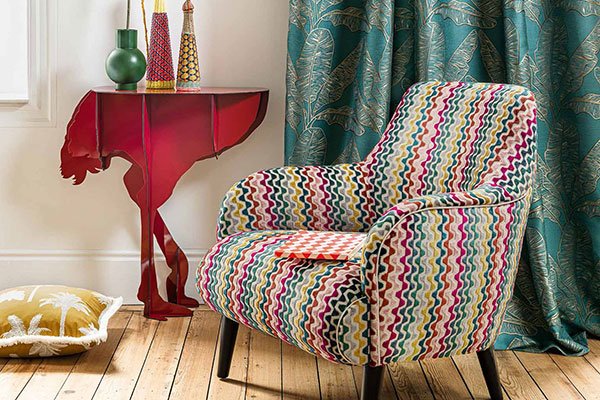 French style décor exudes a casual elegance that feels effortless yet carefully curated at the same time. Essentially, French style is about knowing how to edit the various elements in a space. Colour, pattern and texture in just the right proportions all play an important role and the end result should appear effortlessly elegant.
Here are a few design tips to introduce some French Style Décor into your home
Mix Old and New Aesthetics To achieve a distinctive French eclectic style, mix furniture and décor from different eras and design styles. Keep it all cohesive by repeating some core colours throughout the space.
Hero Architectural Details Even though your home may not have grand architectural features such as ornate cornices or high ceilings, you can draw attention to more subtle, yet elegant components such as a well crafted fireplace mantel, or the rich texture of wooden floorboards. Consider adding features such as timber beams or wainscotting to introduce more character.
Decorate with a Muted Colour Palette The simplicity characteristics of a French-style interior come from the colour palette. The use of crisp white walls, muted sage greens, steely blue and dusty rose all add depth to a neutral palette.
Add a little glamour Every room needs a touch of glamour as part of the French styling. Select a couple of accessories that add a little glitzy sparkle. It could be a chandelier or a gilded antique mirror that gives that touch of opulence.
Embrace the Aged and Antique The French style welcomes the charm of aged wood, peeling painted finishes on aging furniture and the patina on antique mirror frames.
Create a Homely Ambiance A classic element of French interior design is that it never looks to perfect. You don't need to decorate fully in a specific style, Instead, accessorise with some personal items that have special meaning to you and your family which will complement the French style décor.
Don't Over-decorate please Classic French style interior design is pared down and not over crowded. Edit the décor down to items that serve a purpose, reflect your personality or have sentimental meaning to you.
If you have a love of French Style interior design and want this incorporated into your home or any property, get in touch with Lurleen who is an experienced Interior Designer. Her interior design expertise will ensure your project runs smoothly, safely, and to plan so you end up with a beautiful, functional space that fits your lifestyle.
Visit us on Facebook or Instagram to see recent projects.
Photos: http://www.camengo.com/