Published by Lurleen Kirkwood
Posted on
Want to incorporate a wow factor with attitude to the exterior of your home?
There's no more effective way to ensure your house will stand out and get noticed than a stunning front door. There are some wonderful antique exteriors doors about, sourced from places like France, Italy or Mexico to name but a few. Alternatively, a beautiful bespoke door in a timber such as New Guinea rosewood will certainly catch the eye BUT for something really different, have a look at these options ……
How about a metal front door? The first photo is a bespoke door by Axolotl based in Matraville, Sydney. They are pioneers of innovative and creative metal, concrete, glass and timber products. Wait for it though because the really cool thing about this metal from Axolotl is that it is a liquified form of semi-precious metals such as zinc, copper or bronze. This can be applied to the surface of any substrate. The advantages are that it not only looks spectacular, it's also lightweight and best of all, it has the look of solid metal.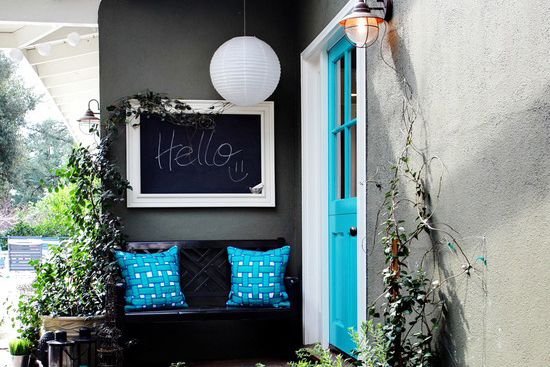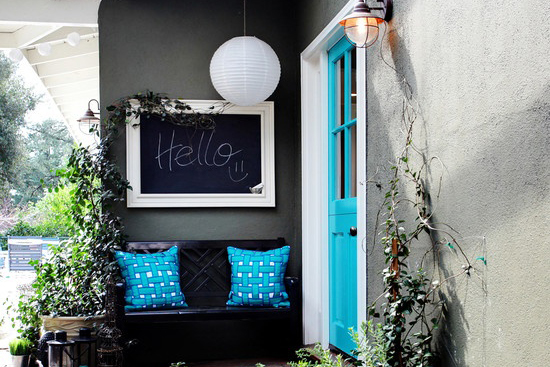 For those with perhaps more dash than cash, why not paint your front door a bold colour? The above photo shows a house with deep grey, rendered walls. Choosing to use dark grey on exterior walls is a bold choice which could easily result in a visually flat, heavy appearance. But this house owner knows a thing or two; by adding lashings of white and painting the front door a bright, aqua blue, the result is a beautiful, welcoming space with a decidedly modern edge to it. Oh and the addition of the blackboard and black gloss outdoor seating with the two lattice patterned cushions placed strategically just so? Well that is sheer genius!!!!
Credits: http://axolotl.com.au/    https://au.pinterest.com/