In Part 1 of this blog series on Building a new house we covered all the tips and tricks you need to know for buying land, and in Part 2 we looked at the construction team you need and how to find them. In this third blog, we cover off what an Interior Designer can do to support clients building a new house.
What is the Interior Designers' role?
Interior Designers can take on various roles in building a house from managing the entire project, to simply specifying paint colours. However I For Style offers another valuable service: Client representation. What is this? Simply put, it means that we are responsible for ensuring the clients' best interests are at the heart of every decision made. We are involved in all discussions at the planning stage and all site meetings during the construction stage. It's important to consider what role you want an Interior Designer to play well before you begin building your new home. This is normally established during the initial planning stages and is called either 'The Brief', or sometimes called the 'Scope of Works'. We've written all about this in another blog here. For practical examples we also list the Brief for each project on our Residential Projects page.
Let's face it, building a new house can be stressful at times. The best remedy to combat this stress is preparation and communication. Well before construction even starts an Interior Designer can help you select and document all the colours and finishes, so you completely bypass the panic that comes when the Builder says, "I need those bathroom tiles by tomorrow", and you aren't ready.
Clear communication with the construction team and the Interior Designer is also key to ensuring a new building project runs smoothly. For the below Contemporary Coastal Style home in Sawtell, I For Style worked alongside Architect, Dan Bowland Design, and the Builder, G4 Group, to ensure this client's new home was delivered as stress-free as possible.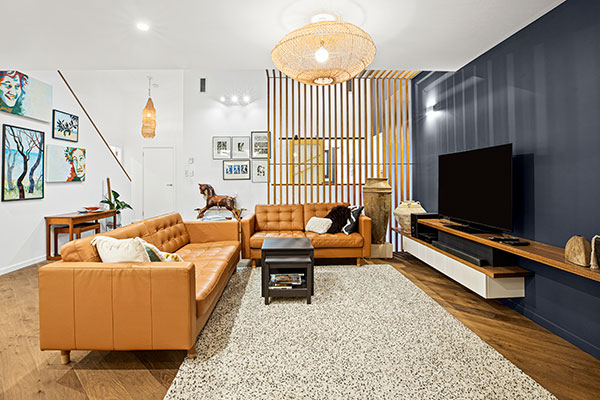 What's involved in selecting colours and finishes?
Before you even think about selecting colours and finishes, you would work with an Interior Designer to come up with the Design Concept for the project. This will include coming up with an overall style or theme for your new property, for example something like 'Country Rustic', 'Modern Beachhouse' or 'French Provincial'. This helps to anchor all of the design decisions back to an overall style or theme.
There are two parts to selecting colours and finishes – the external, and the internal, and both elements need to work together to create a cohesive design and style for your new house. Exterior colours and finishes are key to realising the fullest potential of how your new home will function and look, and with the right combination, they can create serious street appeal. Details like your front entry door shouldn't be overlooked either, it's a great way to introduce some WOW factor and ensure your guests feel welcomed as they enter your home. We've written before about some memorable and meaningful front doors.
Looking at the interiors, an Interior Designer can help you select colour palettes for rooms, wall and floor finishes, lighting, kitchen bathroom and laundry cabinetry, bench and vanity tops, tapware, fixtures and fittings. Again all these design decisions will come back to the design concept.
As you can see there are A LOT of design decisions to be made when building your new house, so having a trusted Interior Designer to support and guide you can take so much stress out of the process. I For Style has been doing this for over 20 years, so get in touch if you're looking for support to build your new home. You can also check out more photos of new builds we've worked on, such as the Contemporary Coastal Style House featured in this blog, on our Residential Projects page.