Paris adventures are always high on my list whenever I'm in France. I've been in Paris a number of times now and still find there's plenty happening and lots of things to see and experience. And of course, being an interior designer, I'm always particularly interested in the architecture and interior design and Paris never, ever disappoints.
If you're a first timer in Paris, you must experience the Eiffel Tower, the Louvre, Sacre Coeur and Arc de Triomphe to name a few. To really experience and immerse yourself in the real Paris though, just meander down some of the side streets and be amazed!!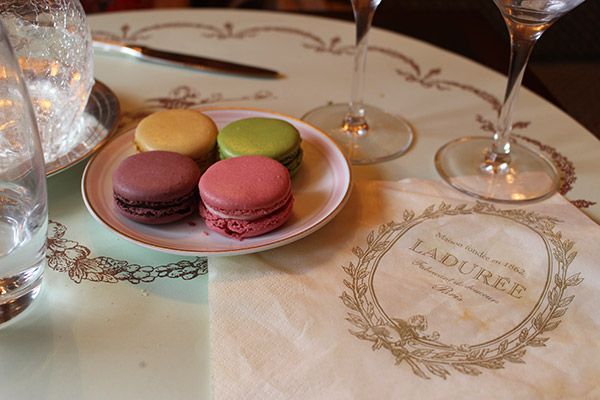 One particular day we decided to do just that and ended up at Ladurée Paris Rue Royale (First Photo). Ladurée is a luxury French bakery and sweets maker house created in 1862 – and its style personified!! They're especially famous for their double-decker macarons (second photo). There's always plenty happening at Ladurée for keen foodies or those who love a taste of the high-life; from their tempting macarons to their pastries and bonbons.
The best bit though? Soaking up the atmosphere as we sipped on our champagne and nibbled on our to-die-for macarons. Now that's an experience to remember!!