A kitchen is often referred to as the hub of the home. It's where all the delicious (hopefully anyway!) meals are prepared, family and friends gather to chat, and oftentimes where homework or office work is done too. Today we'll share a few tips on designing a functional kitchen space, and a sneak preview of a project we're working on right now on a French Provincial Kitchen renovation.
Tips for kitchen design
Space planning – your kitchen needs to work hard for you. The space should be functional and easy to navigate around. If you're looking at a kitchen renovation and need to work within the space you already have, changing the floorplan layout could be the answer to a kitchen that functions more efficiently. It's often said that you should aim for a triangle shape in the kitchen between the fridge/ freezer, stove, and sink so that you can move easily between these things as you prepare and cook. This doesn't necessarily always work in extra-large kitchens or irregular-shaped kitchens, but it's a good rule of thumb to go by.
De-clutter – due to the high traffic flow in a kitchen, it can often get cluttered quickly. Pots and pans can be askew in different cupboards, and the utensil draws can get overloaded with everything from extra straws and skewers to multiple serving spoons. Write a list of essentials that you need in the kitchen, and then go about tidying up what's not needed.
Storage space – think about how much storage space you need and how you'd like that to be displayed. Do you want hidden storage with cupboards or do you prefer deep drawers? Would you like some open shelves? This task is definitely much easier once you've de-cluttered!
Style – when considering what kitchen style to go for, take the overall style of the rest of your home into account and keep this consistent. Consider the colours throughout the house as well, you always want rooms to naturally flow as you move from one to the other. If your kitchen renovation is the start of a whole-house makeover, then go with the style that you would like to use for the rest of the home.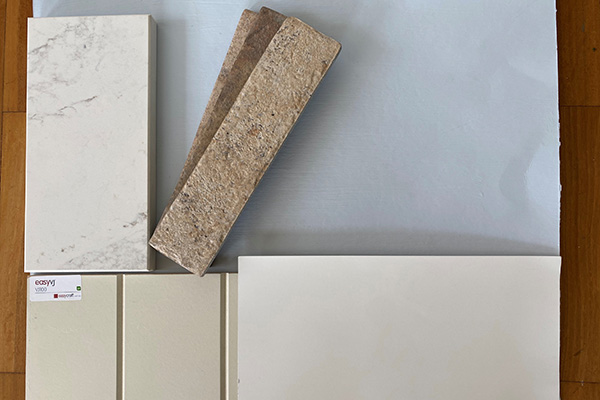 French Provincial Kitchen Project
We're working on a kitchen renovation for some clients in the Blue Mountains right now and naturally, we've taken all of the above tips into account. This property sleeps up to 20 people so we needed to make sure there was ample space in the kitchen to move around. The current kitchen is looking tired and cramped, so we're opening up the wall between the kitchen and living room to create more space. Adding an island bench will connect the two areas and add a community feel where people can chat and gather as meals are prepared.
In terms of style, we are going for a French Provincial meets country rustic style which is consistent with the overall home. We're keeping the existing large country stove and using a rustic-looking, textured brick tile from Beaumont Tiles. Benchtops are the beautiful Calacatta Nuvo from Caesarstone, so there's a nice tie-in with the bathroom renovation with a similar vanity top. The paint colours for the joinery are Pre School and Natural White from Dulux. To continue the rustic theme we'll be using a hardwood timber bench top for the island, and the island will have Easycraft timber vertical panelling on the living room side, which has been used elsewhere in the house. We're excited to be working with local Builder Eberones Constructions and Joiner WD Interiors.
If you liked this blog, check out these others on Benchtops, Stunning Kitchens, Elegant Kitchens, and Beautiful and Functional Kitchens. Otherwise, if you need help designing your new kitchen, contact the experts with over 20 years' experience.