A beautiful, functional kitchen starts with a great kitchen design. Key to this is careful forethought and planning. Our client's stunning kitchen is a great example of a great kitchen design. The layout is practical, enabling ease of access around the kitchen. There's plenty of storage and bench space, including the island bench with breakfast bar. Lighting is highly functional as well as attractive. All of these elements are essential in great kitchen design.
Another key to stunning kitchen design is the style, finishes and colours. It's important to carefully select the joinery profiles, benchtops, splash back and feature lighting to tie into your overall design concept. The door and drawer handles, sink, tapware and even the finish of the oven, cooktop, dishwasher, microwave, and fridge all need to work together in harmony. Phew!! As you can see, there's a lot to think about! So stunning kitchen design doesn't just happen…
It was a privilege for I For Style to work on this new build project, alongside Architects Dan Bowland Design and Builders G4 Building Group, including on the stunning kitchen shown in the photos. It's an excellent example of great kitchen design!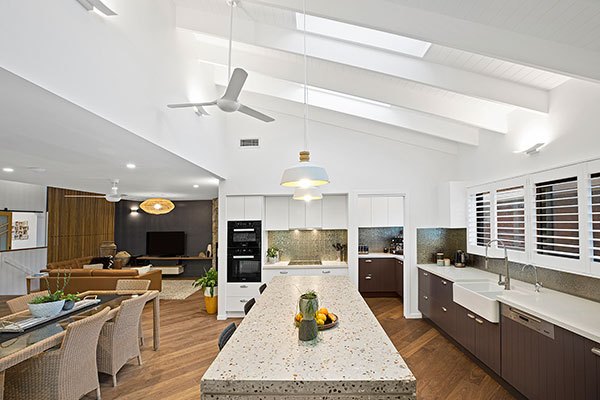 So, if you're contemplating changing your kitchen, I highly recommend enlisting the services of a professional interior designer to help you achieve the very best result!
Read more about the process of creating this stunning kitchen.
Here's some other great blogs about this house: