What is Sustainable Design and how can I incorporate it into my home?
It's fair to say in recent years most of us have become more mindful of our environmental impact in the world and sought to make buying decisions that are a bit kinder to our planet. Whether it's the plastics we use in our kitchen, the cleaning products we use on our home, or the clothing we buy for ourselves and our families. Not surprisingly, this trend has also extended to the design world, creating a whole new area of design termed 'Sustainable Design'.
Ecolife defines Sustainable Design as "the intention to reduce or completely eliminate negative environmental impacts through thoughtful designs".  At I for Style we like this definition because of the reference to creating 'thoughtful designs', which aligns beautifully with our mission to create interiors that life the spirit and enrich life. Our first photo show a client's backyard of their newly built house in Sawtell on the mid-north coast of NSW. The very cool, outdoor swing chair is made out of recycled teak that used to be their outdoor chairs whilst they lived in Sydney. The second photo is of their letterbox in Sawtell which incorporates bricks that are from the local area.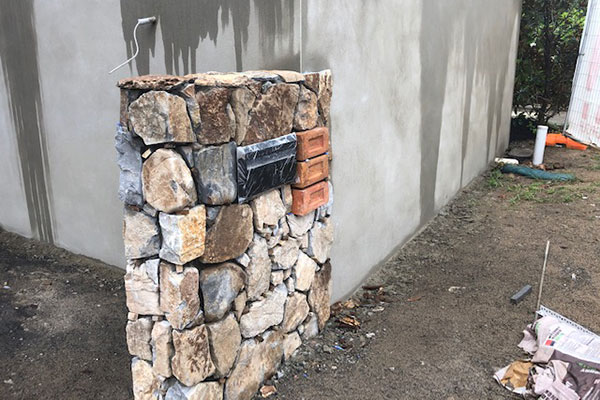 There are a couple of Australian companies that we've been watching closely in this space recently:
Weaver Green is a Queensland based company which creates rugs, cushions, throws and other homewares out of recycled plastic bottles and lids. It's founders Tasha and Barney stumbled across the idea of reusing plastic materials whilst travelling through Asia and seeing fishing rope made of unravelled plastic bottles. Using Barney's expertise in the flooring industry, and Tasha's organic drinks business and love of antique textiles, they have created a whole range of stylish and affordable homewares that don't cost the earth. We love the Oxford Stripe Navy Blanket for kids bedrooms and coastal homes, and the geometric print in the Medina Tangier Rug which creates texture and character with neutral surroundings.
DesignByThem is another Australian business focused on sustainable furniture design. From armchairs and lighting to dining tables, these designs are bold and unique. The company is passionate about Australian design, timeless aesthetic and there's a distinct playfulness in their pieces. Mostly featured in commercial spaces, their range can be seen in offices, universities, restaurants, hotels, libraries and airports, but we think some of these eclectic pieces would work really well in the right home.  Amongst other items, we like the Nuptial Floor Lamp.
For more Interior Design inspiration visit the Residential Projects and Blogs pages on our website, or contact us to discuss how we can help you create thoughtful, sustainable design in your home.