If you're considering a kitchen renovation, it makes sense to learn a bit about the various benchtops that are available to choose from. In many ways, benchtops are the crowning glory of a kitchen so have a good look at all the options available for benchtops before you decide on which one is right for you. Below is some info about two of the options for available for benchtops.
In our upcoming monthly newsletter we will be looking at many more options for benchtops. Click here to subscribe to the newsletter if you haven't already.
Polished Concrete
Polished concrete benchtops have become very popular in the last few years and it's easy to see why. Polished concrete benchtops can look right at home in lots of different interior styles: Contemporary, Industrial, Coastal and, what may come as a surprise to you, even Hamptons and Classic Style interiors.
A polished concrete waterfall benchtop has just been installed on the island bench of our client's newly built house in Sawtell, NSW. It looks amazing!!
The style of the new house is contemporary coastal.
The natural materials used, the style of the benchtop, and even a good idea of the colours used within of the benchtop, were all specified before the build commenced. As a labour of love and to create a truly special and unique piece, it was agreed that the clients themselves would handpick the beach stones and shells to be added to the cement base.
The fabricators, Luxcrete Designer Concrete then met with my clients and did some samples pieces before the main event in order to get the cement colours just right. They even filled the hollow shells with stones and resin so you can see inside.
Lots of beautiful pics to come on this project in the new year!!
$ Higher-end of the market.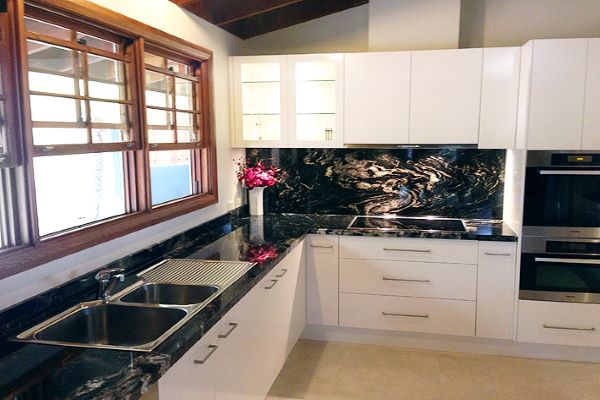 Natural Stone
Natural stone is the crème de la crème in terms of luxury.
Marble is beautiful to look at but beware! Lurking below the surface can be trouble a plenty! Marble is probably one of the least practical options. It's porous and soft and spills must be cleaned up straightaway. A sealer should be applied, and this will help protect your marble but it's not perfect and will need resealing over time.
Granite is far easier to keep clean. It's very resistant to scratches, stains, chemicals and also heat resistant. Granite should also be sealed and will need to be resealed over time. Check out Gitanistone
$ Higher-end of the market.