Published by Lurleen Kirkwood
Posted on
Travel inspiration has always been high on my list as an interior designer. Travel inspiration comes to me whether I am on a road trip in different parts of Australia, or overseas. There's always plenty to be inspired by and I find that the knowledge and visual insights I gain during my travels are often integral to capturing a truly authentic look and style for my clients' projects. Of course, these days we have such a wealth of information via the internet etc, but I think that real travel inspiration comes from physically being in a country and mixing with the locals. This really helps capture the true essence of a place.
Each country has its own personality that helps to shape its uniqueness. During our six-week inspiring travel adventures in September 2018 we visited Ireland for the first time. The reason for this was two-fold, the first being that hadn't been there before, and being Kiwis with a love of rich green landscapes, we liked the idea finding out more about the 'Emerald Isle'. The second draw card? Some of my ancestors left France in 1066 with William the Conqueror, bound for England on their own inspiring travel adventure. From there they went to Ireland, put down roots and built several castles, including Bargy Castle.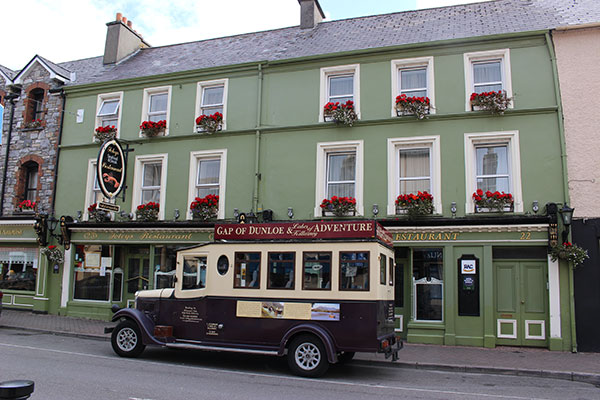 Spending time at Bargy Castle, which was built in the 1400's was the highlight of our time in Ireland and we are hoping that one day, in the not too distant future we will be able to go back there. I'm also very interested in interior design and architecture and love to wander around villages and cities alike just exploring the beauty of the built environment. Killarney is a very pretty town in County Kerry. The second photo shows part of Foley's Town House and the Restaurant which sits right next door
Other aspects we really enjoyed while in Ireland were the genuine warmth of the people, the quaint thatched-roof cottages (First photo), the beauty of the landscape and many other must-see sights that make this lovely country worth a second visit.
If you've enjoyed hearing about Bargy Castle and other travel adventures,  read on… Ireland  Morocco  France  England  Bargy Castle