Helping clients choose art for their homes is one of the fun things about being an Interior Designer. Art is very subjective and personal, over the years I've seen so many different pieces of art that appeal to people for many reasons. Art can be an investment, as well as something that lifts your spirit. Art is one of those items that can be the icing on the cake , it can really make a space or room.
So how do you select art for your home?
One of the first things I encourage clients to do if they aren't sure what style of art they want for their home, is to have a look around. Naturally certain looks or style of artwork may work better for the style of your home, and I often provide guidance around colour palettes and styles. That said, it's really important that the artwork appeals to you, after all it will be a centrepiece in your home. Some common questions I ask clients when choosing artwork are; How does it make you feel? Does it stimulate your mind?
In the cover image for this blog my client and I are at Botany Bay Design Solutions, who are a trade supplier of art. Together with the client we selected a stunning painting featuring all the beautiful colours in peacock feathers, and then it was time to select just the right matt board and frame to show off the piece to its best advantage.
Different types of art
Art comes in so many different forms. Here's just a few types, and the list goes on.
There is textile art, and I've written about my love of Ronél Jordan's stunning work with materials like felt and wool.
You also have photography, and for some truly thought-provoking and unique pieces, I love the work of Patty Carroll. Patty's 'Anonymous Women' collection is covered in more detail in this blog if you want to check it out.
Prints are a lovely form of art too. Chrissy Jeffery from No Chintz had some lovely prints (and other artwork) when I visited her apartment some time ago.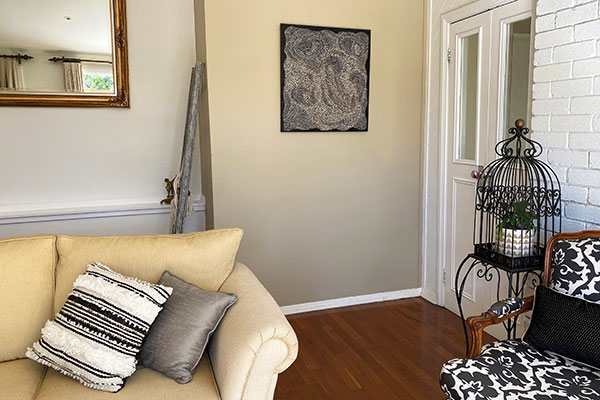 Original paintings are always a great way to add character, and they often also come with a story. On a recent trip, my husband Graeme and I purchased a stunning Aboriginal artwork at the Gallery of Central Australia at Ayers Rock Resort. The piece, titled "Ngintaka – Perenti", is by artist Jorna Newberry and we were both drawn to the striking colours and the minute details of this painting.
So there you have it. A quick summary of how to select art for your home, and a few different forms of art that you can incorporate into your home. If you'd like further ideas on buying art, get in touch.