Published by Lurleen Kirkwood
Posted on April 19, 2019
At the risk of repeating myself yet again, I believe that art comes in many forms. That's why I was excited to learn about Ronél Jordaan's work in an article from Maison & Objet Magazine.
In 2003, Ronél, having been a textile designer for twenty six years, did an art therapy course which included a project in felt. She fell in love with it and began researching the possibilities of using felt as a creative medium.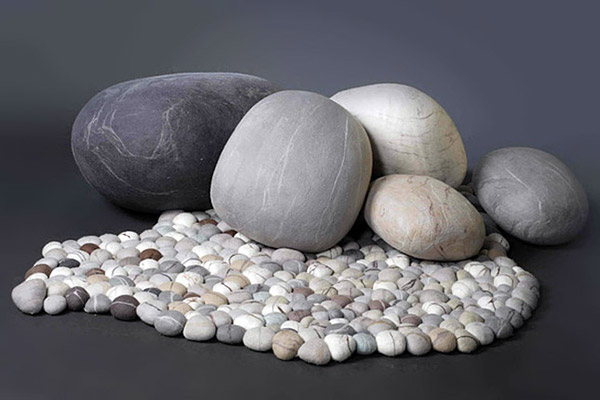 By patiently rubbing and coaxing threads of pure wool into shapes in nature that inspire her, she found her direction (at the age of fifty, I might add) and started a small home industry. Entirely self-taught and following her own creative instincts, she began to turn fine gossamer thread into robust felted forms.
Recognised for their originality and design uniqueness, her creations found an immediate market. She trained a handful of women to help her. 'My motivation was to create employment for women with limited skills,' she says. Today, Ronél's work force ranges between 17 and 60.
Photo 1: Cape Nature Acoustic Panels – Ronél Jordaan   Photo 2: Felted rock stones and pebble mat – Ronél Jordaan