Simply put, an integrated kitchen is when the kitchen appliances such as fridges, freezers, and dishwashers sit inside the kitchen cabinets (joinery) so they are unseen until they are opened for use. As opposed to having semi-integrated appliances that have the control panels visible or freestanding appliance that can easily be moved around the room.
What are the advantages of integrated kitchens?
The main benefit of integrated kitchen appliances are their space saving properties, as they are unseen, sitting nicely flush with other cabinets and only take up as much room as would have been used by the cupboards. The joinery/cabinetry is more furniture like and seamless, creating clean sight lines and are less busy and messy in appearance. An integrated kitchen is particularly effective in smaller kitchens where both floor and surface area is limited.
Are integrated kitchens just for modern style kitchens?
No, classic style kitchens also look great integrated as the photos of our client's French country kitchen shows. Any kitchen style can be enhanced by integrated design features where clutter and appliances, the curse of many kitchens, are kept completely hidden. In a classically designed kitchen, styling integrated appliances behind cupboard doors can help to maintain a traditional aesthetic. Integrating appliances allows you to get a consistent look across your whole kitchen.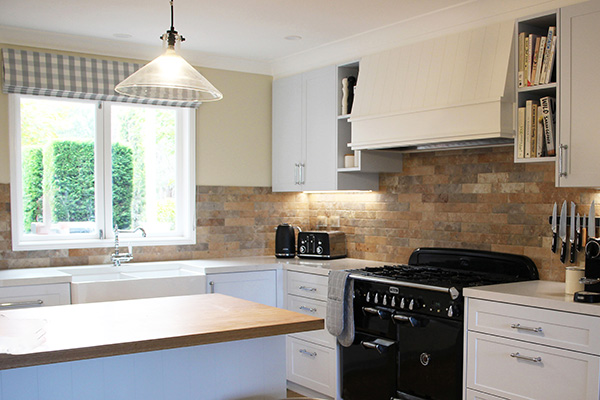 Are they more expensive than other non-integrated kitchens?
Integrated kitchen appliances are considered high-end and are more expensive than non-integrated appliances. There is also more joinery needed which adds to the overall cost of a kitchen build.
What do you need to think about for an integrated kitchen?
When purchasing appliances such as your fridge, dishwasher and rangehood, ask the salesperson if they are fully integrated if you're unsure.
Another point to remember is make sure the hardware (door and drawers handles/knobs) is sturdy and large enough to easily cope with the extra weight of the fridge/freezer or dishwasher door.
The large fridge with bottom freezer is on the left side of the butlers sink in the first photo. Long, sturdy handles from Marina Isles https://marinaisles.com/ that could carry the weight of the doors were required.
When deciding whether to implement integrated appliances into your kitchen, make sure to consider style, practicality, and value, as well as whether they will complement the design scheme and size of your kitchen. If you need some design advice on an integrated kitchen, Contact Lurleen.