Walls are pretty necessary in a home aren't they? They provide protection, privacy, and their insulation provides warmth. Walls take a lot of wear and tear. Just ask any parent of young toddlers with finger-paint or sticky foods. But aside from practicality, wall treatments can completely transform a space from a merely functional partition separating two spaces, into something unique that induces feeling.
What are Wall Treatments?
Wall treatments can include paint, wallpaper, fabric, wood panelling, mouldings (such as wainscoting), plaster and tiles.
We're going to take a close-up of two very specific types of wall treatments in this blog, wainscoting and grasscloth wallpaper.
Wainscoting
Wainscoting wall panelling is a simple design that gives drama & instant style to any room. It is created using several timber moulding products & has many style options available such as raised panel, shadow box & beaded.

– Intrim Mouldings
Wainscoting is often used in European countries and in places where more traditional interiors are features. It works well in formal areas, such as hallways and studies, as it creates an elegant and sophisticated look. Wainscoting creates visual interest, and is a great way to add classic architectural elements to a plain room.
Intrim Mouldings have a beautiful selection of wainscoting and they're one of our preferred suppliers to use for this look. To see how we transformed our client's living room to create a meaningful and refined space using wainscoting read the blog here.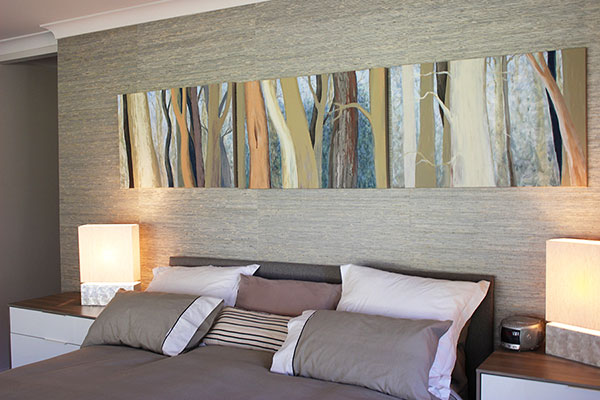 Grasscloth Wallpaper
Grasscloth Wallpaper is natural, handmade wallpaper. As it's made from natural fibres, and hand-woven by an actual person rather than the traditional wallpaper which is manufactured on a rolling machine, grasscloth wallpaper is more environmentally friendly.
All wallpapers can make a statement, read more about this here. We love grasscloth wallpaper for creating colour and texture to walls, which works to create visual interest, depth and ambience. Grasscloth wallpaper works well in bedrooms, hallways, and home offices. Porters Paints have a beautiful selection of grasscloth wallpaper.
If you're looking to transform a room or wall within your home and not sure how, I For Style are specialists are experts at creating innovative and seriously stylish interiors. Get in touch today to see how we can help.