Types of fabrics used for Interior Design cannot be underestimated with the important part they play in the overall design look, feel and comfort of a space. At a recent consultation the client and I decided on the window furnishings for their space. The style, fabrics and trims we have chosen are distinctive, and tailored to each room, while still perfectly complimenting the overall style of the home.
(See article feature image above and the image below to see our fabric selections and view the finished results of the fabrics: View Classic Style House Here)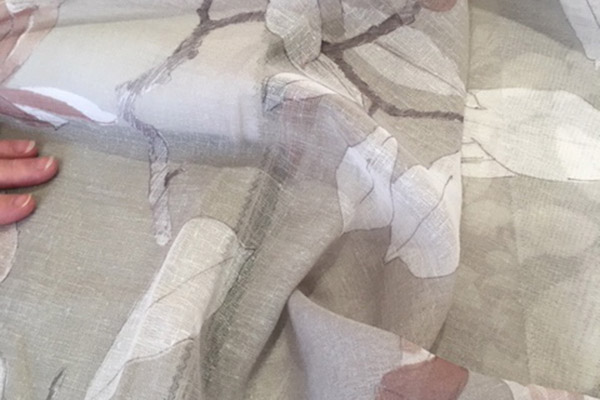 The softer accents used with Interior Design are what make us feel connected and evoke emotion in our homes and the best way to deliver these appealing aesthetics in a room is with the use of fabric.
Fabrics in interior design have been used for a long time for upholstering sofas, as curtains and drapes, throws, pillows, cushions, carpets, rugs and also in featured accessories like wall art. There is a vast array of fabric that every home incorporates with soft furnishings in the overall design that sets the style and mood of the space.
The beauty of using fabrics in interior design is that they can completely transform a room. A simple and affordable way to refresh a space whether residential or commercial, is to think fabrics and textiles! Changing around the colours and textures of curtains, cushions, throws or rugs can provide amazing transformations in your space.
Let's look at the types of fabrics used in Interiors. Several kinds of natural and man-made fabrics are available. You should choose the right one based on the style you are going for, the durability it offers and the budget you have.
Here are some popular types of fabrics:
1. Silk: is perfect if you want to create a rich, classy look. It flows beautifully, has a lovely sheen and is a delicate fabric.
2. Leather: is a great choice for dining  and study chairs, or even sofas. It is soft and extremely comfortable and adds a classic style element to the room.
3. Rayon: is fast replacing silk as a favorite. It is easier to maintain and more economical while offering a similar flow and look.
4. Cotton: is a go-to fabric in interior design. It is natural, light, breathable, durable and readily available.
5. Polyester: is not commonly used on its own but more as a blend with other materials. Polyester blends are great options because they are wrinkle-resistant.
6. Velvet: is possibly the most luxurious looking of all upholstery fabrics. Velvet does come in and out of style but makes a perfect choice if wanting a sense of class and style.
7. Microfiber: is a more affordable velveteen fabric. It is a common fabric in interior design today as it has a velvet like feel, but is a polyester-derivative which makes it affordable and easier to maintain.
Things to Consider when Choosing the Right Fabric
Think about these factors before you make a final choice of fabric for your space:
1. Colours
This is the most important decision as it will create the right mood and tone in the space and should be one of the first selections as it will drive the overall design of the space.
2. Texture
Textures add in layers to the overall aesthetics of the room. Mixing textures in window treatments, sofas and accessories will set the mood. Keep in mind how you use the space and select textures that will be suitable and easy to maintain.
3. Price
Your budget will guide you as to what fabric choices will work for your space. The great news is that several natural and artificial fabrics can be substituted for more expensive ranges easily without compromising on the effect too much.
4. Durability
While it is easy enough to change curtains or switch around throw pillows when you feel like a change, some fabric choices need to be more durable as they will need to last for a few years at least. Things like headboards, dining chairs and sofas that get constant use, you won't want to have to go to the expense of replacing these regularly.
5. Complementary and Contrasting Fabrics
When selecting furniture upholstery or drapery fabrics you want it to complement the mood and aesthetic of the room. Fabric choices can be more neutral for a relaxed, classic style, or for a more ornate look consider using richer textures and darker colours. Pops of accent colours used on pieces of furniture work well to add personality to a space and coloured or patterned fabrics make accent pieces a real feature.
6. Purpose
The overriding factor with every fabric choice is the function it will serve. If you are decorating a space that is only intended for occasional guests, you can pick something more delicate. If the curtains need to block out sunlight completely, you will need to choose an appropriate block out fabric. If you are decorating a wet area, you will need an appropriate fabric that is designed for these conditions.
7. Layers
Layers of fabrics add texture and a level of warmth to a room. They can also help offer added protection, such as sheers providing a layer giving some privacy to a space and allow existing curtains to remain as a feature. Using slipcovers on dining chairs or sofas for everyday use can help protect them better.
There are so many fabric options available for commercial spaces and home interiors and a wide variety of suppliers and manufacturers from all over the world.
For some of the latest, innovative design fabrics, MOTIVO is a boutique Australian textile wholesaler to the trade. It evolved from 18 years combined experience in the design industry, from their own business to working with some of Australia's most renowned interior designers, architects, and importers. Their designers are diverse and print, paint or hand dye each of their designs. MOTIVO strongly supports their craft as many of these specialties are being lost by mass production.
You can view a great example of a fabric sourced by MOTIVO from Tillet Textiles and T4 in the (French Provincial Style House gallery) used for an antique chaise lounge in the Conservatory. View Gallery Here
For all the latest interior design styles and to help you find the very best types of fabrics and textiles to create your dream home or commercial space, contact Lurleen or visit us on Facebook