Published by Lurleen Kirkwood
Posted on
They say that the kitchen is the heart of the home and that is so true as we use this space not just for cooking, but as a multi-purpose space for many family activities in our busy lifestyles. The kitchen tends to be the room where everyone gathers, whether it's family on a daily basis, or guests when we are entertaining. Because of the kitchens' important role in a home, when building or renovating a lot of time is spent looking at kitchen layout ideas, as we all want to end up with our dream kitchen!
With the kitchen being such an essential part of the home, it makes sense that modern kitchen design ideas need to be highly functional as well as aesthetically pleasing.
The key elements for a good functioning kitchen design include:
Creating a 'work triangle' (between your refrigerator, sink, and cooktop)
Providing as much storage space as possible, and
Allocating good sized food preparation surfaces
Delivering a welcoming and calming environment with colour, lighting and material selections
Designing practical spaces for all functions that happen in the kitchen (cooking, homework, meal sharing, drinking coffee and many more)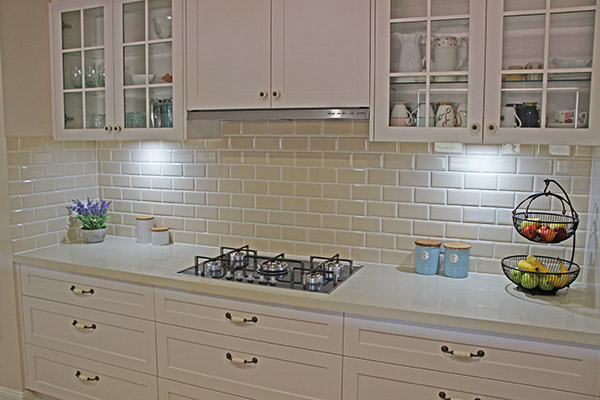 Modern kitchen design ideas that will turn your kitchen into a "stunning kitchen" can be achieved by engaging with a professional interior designer. They will be able to help you design a functioning floorplan layout that will save you making costly mistakes. The interior designer will be experienced in floor plan layout, space planning, colour selections and will be able to advise material selections that complement the overall style of the kitchen.
The main factor in achieving beautiful kitchen designs is in the attention to detail – EVERY TIME!
The layout of our client's kitchen pictured here works really well for them and they love the look that I for Style has created, they find it a visually uplifting space to be in.
If you need some inspired kitchen ideas for your dream kitchen spaces, Lurleen will work with you to deliver kitchen layout ideas so you can have the well-functioning and stunning kitchen you have always dreamt of. Contact Lurleen today or visit us on our Facebook page to get started on your kitchen design project.
Photos: I for Style
Categories: Kitchens, Residential Interiors
Tags: interior decorating, interior decorator, Interior Design, Interior Designer, kitchen