There's lots of reasons why it's worth having a combined bathroom and laundry. Saving space is one very good reason – it's simply not necessary to have two separate rooms when one can fit the bill just as well, if not better. The original space was an inefficient and dated laundry (see the before photo below). With some careful forethought and planning, we were able to create a successful, combined laundry and bathroom which works perfectly in this French Provincial Style house. This property is used as an Airbnb and it is not necessary for it to have a separate laundry. The couple who own the property find it works perfectly for them too.
As mentioned, a combined bathroom and laundry renovation needs careful planning from conception through to completion. Attention to detail is paramount, so make a list of what you need to include in your combined space, as this will determine how much room is needed for the floor plan of both areas. Not only do you want your bathroom and laundry combo to function well, it should look great and seamlessly integrate with the rest of your home too.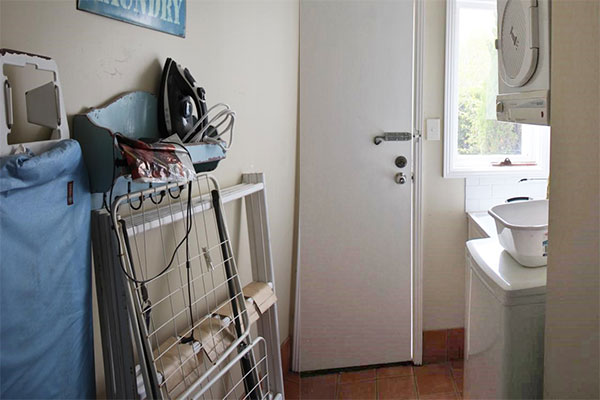 Here are some key tips when planning a combined bathroom and laundry renovation:
Floor plan – maximising the available floor space with a smart layout is essential to the success of a combined bathroom and laundry design.
Custom Joinery – The ability to customise the joinery and utilise every available space along with the combination of high-quality materials and expert craftsmanship makes this a very appealing option in comparison to off the shelf products. The bespoke joinery means that it will fit perfectly within your space whilst matching your personal taste and lifestyle and will blend with the style of the rest of your house.
Storage – creating ample storage in these combined spaces is key to a seamless design that will keep the two spaces organised with no mess lying around.
Seamless Integration – choosing fixtures and fittings that work in both spaces and cabinetry that helps to blend the appliance integration.
Basin/Sink – if strategically positioned, you could utilise the hand basin as the laundry sink, saving space.
Ventilation – ensure there is adequate ventilation, either naturally with a window and/or by installing an exhaust fan. Because of the humidity from hot water and clothes dryers you don't want to encourage mould or constantly have damp towels.
Dirty laundry drawer – including a space for the dirty clothes and towels keeps the space neat as well as hides aways the unwanted smells of dirty items. It also means that everything is conveniently located in the laundry for washing day.
Towel Rail – Plan for enough hanging space for towels to dry and to keep them off the floor.
Hanging rail –  Not always thought of, but it's useful to have when you need it. Whilst many of us have dryers, we are these days more environmentally conscious and try to limit our use of these and on cold winter days, having a rail under the overhead wall cabinets to hang items is very handy.
Ironing Board Storage – Having a cupboard to put your ironing board is essential and the laundry is the perfect space for this. You can even install the board in the cupboard and just flip it out onto its legs to iron in that space.
With these tips, your combined bathroom and laundry renovation will result in a sophisticated, well-functioning room that optimises the available space and works perfectly for your home.
If you feel like custom joinery is something you'd like to explore when planning a combined bathroom/laundry renovation, or for any other room and not sure where to start – Contact Lurleen for a consultation or visit us on Facebook and Instagram to see our recent projects.
Check out another French Provincial Style House blog to see where things are at with this project and stay tuned as other interior spaces are transformed!