With more and more people adopting apartment living, the challenge they have with apartment interior design is in wanting their space to feel like a home and not a cold, impersonal, run of the mill developer display unit.
Apartment styling needs careful consideration and planning to maximise available space, to implement a cohesive design and colour scheme throughout, to incorporate and carefully define room zones and their purpose.
Apartment interior design sounds challenging, and it certainly can be. Everything from paint selections, lighting, window treatments down to the wall art can affect the overall feel of the space and how you feel when you're living in it.
That is where the expertise of an experienced interior designer can help make this very achievable for you. We have gathered together our top apartment styling ideas so your home is unique to you and offers a stunning interior that is functional for your lifestyle.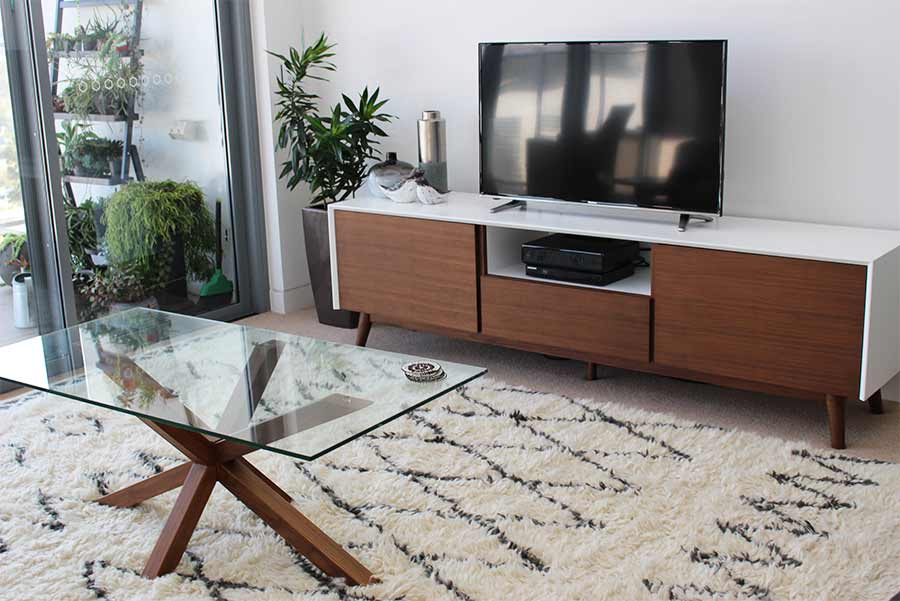 Apartment interior design ideas
1. Keep your design scheme consistent. Choose one style, look or feel, and stick to it throughout the whole apartment.
2. Choose colours and patterns carefully. Create cohesion using similar shades or themes of colours and patterns you can replicate throughout each room to make spaces feel connected, creating a cosy, relaxing space.
Pale wall colours help make the apartment feel light, bright and larger, and to allow furniture to shine. Although, a dark colour on one accent wall can have a receding effect, which gives the appearance of more depth, and in turn can make a small space feel bigger.
3. Use the same flooring throughout. If this isn't practical, try to pick flooring that matches in tone consistently room-to-room. You can add interest with area rugs to break up the colour scheme or to zone spaces.
4. Maximise open-plan layouts. Carefully plan how you will utilise available living areas and zone spaces carefully with furniture placement, colours, pattern and rugs. Utilise mirrors on walls opposite to windows to reflect maximum light and to make rooms appear larger. If they face out to a patio or balcony area, the reflection of greenery from plants helps bring the outdoors inside.
5. Choose low-slung furniture on legs. Furniture that you can easily see over and/or under gives the feeling of more space.  Glass, reflective or lighter coloured finishes all help with this as well.
6. Utilise smart storage solutions. Get creative with storage space. Minimising the amount of clutter in your space will allow you to optimise your use of it making the space feel larger. Dual purpose furniture, hidden storage shelving and clever organising products will help keep things neat and out of site.
7. Pick a statement piece. Having a focal point in your apartment, like a bold rug zoning an area, a light fitting, gallery wall of art or a distinctive piece of furniture, will draw the eye towards that area and away from any problem spaces. Your statement piece could also be a painted or wall papered feature wall on one side to bring people's gaze in that direction.
8. Invest in great lighting. Layering lighting is the best way to enhance space, so forget about the overhead pendant light-only approach and use a mix of lighting options. Practical LED downlights in work spaces like kitchens will make the space feel bright, even if there are no windows. Uplighters will give a room more height and table lamps will provide a cosy atmosphere and define zones.
When deciding on the interior design for apartments, creating functional, cohesive spaces working with the bones of the property to suit your lifestyle can be daunting.  If you need some apartment styling ideas, Contact Lurleen or visit us on Facebook and Instagram to see our recent projects.