Published by Emily Kirkwood
Posted on
Revamping a bedroom is something we get called on to do quite regularly at I For Style, whether that's as an Interior Designer, Interior Decorator or Colour Consultant. Whatever service or style clients are looking for, we've found that ultimately there are 3 key elements that we all look for in a bedroom.
Firstly a bedroom should be a relaxing space, somewhere to relax and rest at night, leaving the day behind as we close our eyes. No matter who we're designing or decorating a bedroom for, a bedroom should feel like a sanctuary, a restful space to relax and rejuvenate before tackling the next day. We know this is crucial for our sleep quality and ultimately our overall health and wellbeing. A comfortable and supportive mattress and quality bedding are key to creating a relaxing space.
Secondly we want functional interior design in a bedroom as there really is nothing worse than tripping over a bedside table when you get up in the middle of the night, or having nowhere to put your book or glass of water. Here we're looking at ample storage space, suitable flooring and appropriate lighting. I've written about the important balance of ‪general lighting, task lighting and mood‪ lighting in a bedroom previously, which you can read here for further insight. For this recent project, the Paris bedroom overhaul at Hartley House in the Blue Mountains, one of the first updates we made was to carpet the floors. Carpeting not only felt warmer underfoot as you moved around in the room, but also acted as an insulation layer in the cooler months and added bonus, it cuts down noise too. Another important functional design element was working with our friends at More Than Curtains to replace the curtains with roman blinds on the back window, allowing more natural light to fill the bedroom when the blind is raised.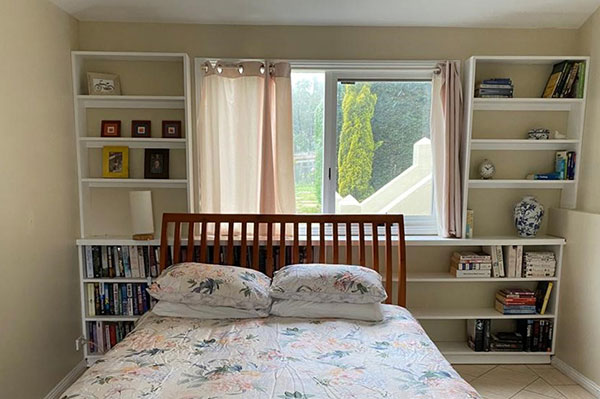 Last but definitely not least, in bedroom interior design and decoration we want to create an uplifting space. A bedroom should make us feel good, and reflect our personality and style so that we want to spend time in it every day. Each client is unique and their needs and wants are different. At I For Style we really pride ourselves on understanding these needs and translating them into reality. This is where the magic happens! We can use paint colours or wallpaper, artwork, soft furnishings, accessories, furniture and window furnishings, to completely transform your bedroom and reflect your own personal style. For the Paris bedroom design at Hartley House we chose Dulux Quaver for the wall colour and Dulux Beckett, which is three shades darker, for behind the bookcase. These colours create both a fresh and relaxing atmosphere for the room. Then we added some personal touches by re-framing the existing family photos and adding beautiful accessories to the bookcase that capture the eye and the imagination.
The Paris bedroom is now a relaxing, functional and uplifting space and the client couldn't be more delighted!
If you're looking to transform a bedroom and don't know where to start, contact I For Style so that we can help make this dream a reality.