In recent years wallpapers, or wallcoverings as they are sometimes referred to, have made a huge comeback. But what is even more exciting is that we're rethinking the way we use them. As a result of this, we're now seeing wallpaper in a very different light and there is sure to be a wallpaper design that fits perfectly in your space.
With this in mind, I challenge you to take a fresh look at what wallpapers have to offer.
Wallpapers look amazing used in residential or commercial interiors. Whatever mood you'd like to create, there is a wallpaper that's just right any interior space. Remember though, that it's about making the right statement – classy corporate offices, funky clothing store, dramatic entry to a modern city apartment, stunning suburban residence, the range of options are limitless.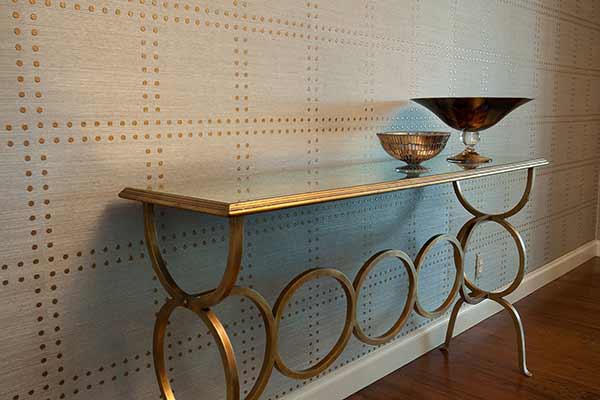 Wallpaper Ideas
By using a wallpaper to create a feature wall instead of covering every wall in a room can sometimes have much more impact and punch. Or how about this for something a little different; use just one drop of a wallpaper and place it strategically with a complimentary or contrasting paint colour on the rest of that wall as well as all the other walls . Of course the right wallpaper can still look absolutely amazing used on all the walls of a room but the key is to make sure it is part of the whole design.
Types of Wallpapers
Below is a list of popular wallpaper types and textures you can choose from.
Vinyl: Pure vinyl is laminated to a paper or linen backing.
Vinyl Coated: A design is printed on a paper backing and then treated with a vinyl topcoat
Embossed: Embossed wallpaper is thick and textured like anaglypta, but with a coloured pattern instead of plain. Raised on the design side and hollow on the other.
Anaglypta: is an embossed paintable wallpaper that is usually quite thick and heavy. It is printed with raised designs and is usually ornately textured.
Hessian: Closely woven Hessian (Hemp or Jute) is stuck to a heavy paper backing.
Grass Cloth: Natural handcrafted wallpaper made with the fibers of a honeysuckle vine being attached to a paper backing.
Flock: Flock has a fuzzy velvet texture. It is made by dusting powdered silk, wool or flock onto a tacky patterned surface paper,
Mural: Murals depict a variety of scenic pictures or landscapes which are usually divided into quarter panels for installation purposes.
Metallic: Also called foils, is created by applying a thin sheet of metallic foil to a paper backing.
Bamboo Wallpaper: Bamboo wallpaper is made by applying bamboo reeds, or vines onto a paper backing with glue.
With the range of modern wallpaper designs available, you should be able to find something that suits your space from a functional perspective and match your style.
If you want to incorporate wallpaper into your home but need some guidance with selections, contact Lurleen to help you create a look that is truly unique and one that will really pop with visual interest, definitely add wallpaper to your list of must haves.
Visit us on Facebook or Instagram to see recent projects.
http://wallpapersafari.com/rivet-wallpaper-phillip-jeffries/