Published by Lurleen Kirkwood
Posted on
Trend Forecasting is a science and an art. It predicts the future direction of something, be it colour, style etc. Trend Forecasting is a very important part of the interior design industry. Last week's blog was about the recently announced Dulux Colour Forecast 2020. There are four palettes of colours in the Dulux Colour Forecast 2020, two of which we looked at last week – 'Grounded' and 'Comeback'.
The theme of the Dulux Colour Forecast 2020 is 'Essence'. In 'Essence' (pardon the pun), it's a reminder to take time out, let go of the stress of our busy day to day lives and reconnect with ourselves, family and friends. So just how can the gorgeous Dulux Colour Forecast 2020 help us to achieve that tall order?
Colour is an important, powerful tool because it can evoke an emotional response from us, even without us being conscious of the fact. Colour can create a certain mood or ambience. Colour can even visually change the proportions of a room.
The third palette of colours in the Dulux Colour Forecast 2020 is titled 'Cultivate'  (1st photo). This palette of colours is the perfect way to bring nature indoors. The green colours in the palette are so easy to live with because they're calming yet refreshing. Blue greens, greyed-off greens and greens with a touch of yellow make this palette easy to use in any home. 'Purple Palace' is a beautiful contrast to these colours. Consider using it for cushions, or even a wall.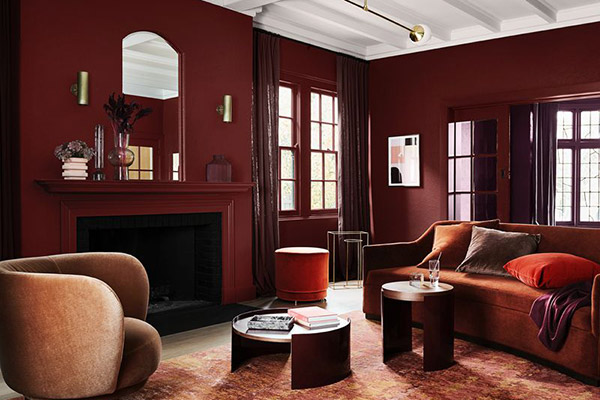 The last palette is called 'Indulge' (2nd photo). It speaks of luxury and comfort; the perfect way to indulge! The strong, deep colours in this palette have a cocooning affect, helping us feel secure and safe, while the softer colours are the perfect counterbalance.
_________________
Remember that with all four of the colour palettes in the Dulux Colour Forecast 2020, the right placement and proportions of the colours are the keys to ensuring a stunning result!
Photos: Dulux