Wall murals and wallpapers are hugely popular now and I believe it's set to stay for a long time yet. There is no shortage of stunning wall mural ideas to suit any design style or colour palette and, murals are one of the simplest and most effective ways to create a statement feature wall in your home or workplace.
Wall murals inject atmosphere into any room without overwhelming the space, and one of their big benefits is that they often depict an entire image rather than a repeating motif.
Paint and wallpaper are often the first choice for wall decor ideas when we think of creating a feature in a room, but they have their limitations when it comes to wanting to create something larger scale and more striking.
But, it is hard to know where to start when it comes to making the right choice – there's such a plethora of wall mural ideas to choose from!
Wallsauce.com has recently announced its latest collection of geode wallpaper murals by GCC Artworks.
Abstract fluid artist, Gemma Coates is the face behind GCC Artworks. 'Inspired by the beauty and intrigued by our natural world', Gemma has a passion for creating art that is inspired by life. Focussing on creations made with resin and ink with a hint of mixed media for texture, GCC Artworks presents fascinating geode and marble style designs that can now adorn your walls as made-to-measure wall murals.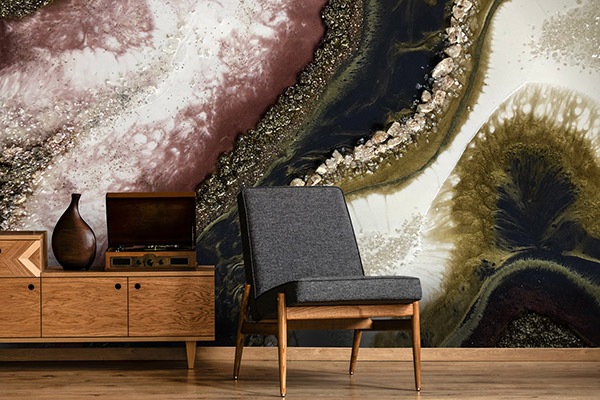 The 8-piece collection features an abundance of mesmerising geode style in a choice of colour palettes and is available on a choice of wallpaper materials, including paste-the-wall wallpaper and a peel and stick wallpaper – which is great for rented accommodation! Prices are per square metre / per square foot depending on your location. Visit the wallpaper collection by GCC Artworks to see the full range of designs available at Wallsauce.com.
Wall Mural Ideas for your home
Wall murals allow you a simple way to introduce a bold burst of colour and pattern to your home or work space and it's all about choosing a design you really love to suit your room decor.
Consider being more bold and playful in the living room as you can afford to be more daring here. Keep the rest of the styling simple so it doesn't detract from the feature wall.
In bedrooms it's best to keep murals in softer tones to help set the mood for relaxation. Nature-inspired prints in muted shades and pastel tones will create a calm atmosphere and bring the outdoors inside.
Wall murals can transport us to another world by their very nature of being more than just a repeat wallpaper design. They can depict anything that represents something special to you: a favourite landscape scene, a holiday memory, an ode to a favourite artist or any of the wonders of our beautiful world can be reproduced on wallpaper murals – the options are only limited by your imagination.
Murals for home walls and office spaces are a great way to create an impactful feature on one wall or perhaps covering the whole room if wanting maximum impact. There are peel and stick wall murals options now available which means you can easily remove these when you are ready to change designs and this is perfect for renters who can't make permanent changes to their walls.
If you have some wall mural ideas that you would like to incorporate into your home or work space but need some guidance, Contact us to book in an initial consultation.
Visit us on Facebook or Instagram to see recent projects.
Credits: Article – Furnishing International Photos: Gemma Coates
http://furnishinginternational.com/      https://www.wallsauce.com/au/designer-wallpaper-murals/gcc-artworks