We've all heard the saying that every girl needs a little black dress in their wardrobe. It's an absolute must have! It's timeless, elegant and chic. You can easily dress it up or down by adding a pop of colour or a classy gold necklace to it. It compliments any colour you put with it and it's never overstated.
What black is to fashion, it's equally as potent when used in interior spaces. I love, love, love to use black. It's great to anchor a room, define spaces and can be used to make a dramatic statement.
There's a bit of skill required to get the proportions right because it should never appear overpowering or tacky, but once that's sorted it compliments pretty much any interior style.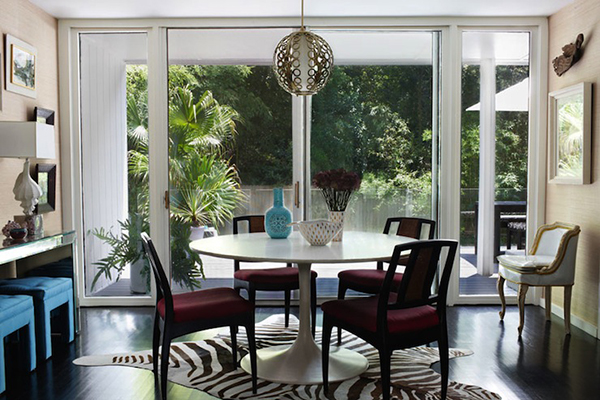 The first interior is a great example of how stunning black looks when used carefully. A traditional black japan stain on the timber floor and black in the dining chairs really help anchor the whole room and give it some punch. Together with the faux zebra hide, this room has just the right amount of black. The funky pendant light adds a fun aspect to the room.
Check out one of our residential projects on our residential page titled Suburban Style where we used black to create a stunning, dramatic bedroom. Because of the soaring chapel ceiling, the horizontal stripes really make the room come alive and serve to ground the space. The black's repeated sparingly in the wall frames and in the chevron striped cushion. Grass green coloured felt cushions are the perfect finishing touch.

Photos: http://www.vanityfair.com/style/photos/2016/07/famous-little-black-dresses-movies-tv#8  https://www.decorpad.com/search/zebra-rug