Summer's almost here and the holiday season is fast approaching so get ready to make the most of it by creating an inviting outdoor room. they are a must if you're going to get maximum enjoyment at this time of year. You don't need heaps of space for your little slice of paradise so take a fresh look at your outdoor spaces and you're sure to come up with a spot that's perfect for you and yours.
Ideal Spot
Is it uncovered or covered? Which direction is it facing? Remember in the southern hemisphere our strongest sunlight comes from the west. These things will affect what you select. We don't want your beautiful new furniture and accessories to look bleached or mouldy in a year (haven't we all been there?).
Great BBQ
An absolute must in summer. Who doesn't like the smell great food being cooked on the barby. It's great if you can have one built-in but even if that's not possible there's some wonderfully effective portable ones around.
Outdoor Rugs
This trend has really taken off. Outdoor rugs soften the space visually and literally, making it really feel just like another living room. They're also practical because they clean everyone's feet off before they curl up on the sofa with a great book.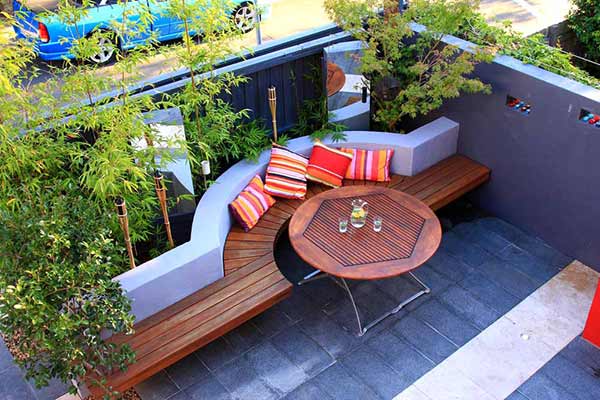 Add some Potted Plants
Plants make a huge difference in softening the perimeters and making an outdoor space feel cozy. Even if you're not a gardener, succulents are great for the Australian climate and they require very little maintenance.
Candles, Cushions & Throws
Candles always help create a relaxed, romantic atmosphere so be sure to include them in strategic spots. Ditto for cushions and throw rugs. I see so many outdoor areas that have great furniture, but they are just missing that final layer that says "Come out here and stay a while…get comfy!" They also add a splash of colour and pattern. Throws are great too when the night starts to cool and everyone really wants to stay outside for a while.
Photos: Home Advisor https://www.homeadvisor.com/
Harrisons Landscaping https://www.harrisonslandscaping.com.au/outdoor-bench-seating/