I believe that some of the loveliest interiors can be a mix of a couple of different styles or looks. At I for Style, we love to incorporate a little rustic elegance into interiors from time to time. So just what is Rustic Elegance? Essentially, it's a carefully considered pairing of both elements; the elegant and the rustic, and there's a bit of a trick to achieving the right balance.
It's about layering. Mixing rough textures with smooth textures, soft surfaces with hard surfaces, light colours with dark colours and it's knowing what to add and take away. In other words, it's about creating a balance. All these elements can transform a mediocre room into a room that has the wow factor in spades!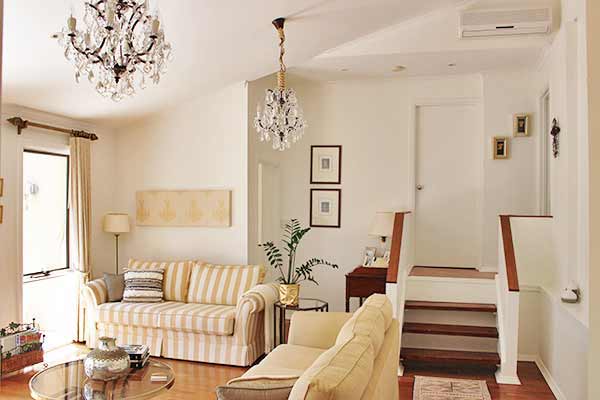 In this beautifully elegant living room the juxtaposition of the gorgeous crystal chandeliers featuring sisal rope draped around the suspension chains, and the textured, embellished cushion on the striped lounge, are the real pieces de résistance. Not only do they add another dimension, but it takes the room from being too predictable to a stunningly inspiring space!