Published by Lurleen Kirkwood
Posted on
Just as we're getting used to seeing lots of glitzy copper homewares in stores and online, the trend is set to change. Oh, and ditto marble homewares according to Diane Cocksey, Senior Interior Decorator at Freedom and in its place, a more industrial aesthetic is anticipated with black steel and burnished metals taking over the home.
So just what else is set to soar in the next year or so?
To look at this maybe we need to take a step back and listen to what Lidewij Edelkoort, one of the world's most influential trend forecasters, had to say at a speaking engagement I attended in May 2014. "Culture moves very slowly so transformation is also a slow process with trends usually rolling out over a ten to fifteen year period" says Edelkoort.
Here's just a few of the trends set to gather momentum  ……………….
Materials used in buildings will become extremely tactile and will often emanate the colour of skin. There will be colours of bodies, viens and blood with  a mix of natural and synthetic fibres. The colour green will feature regularly, even in hair colour. Fabrics will be comforting and also very tactile.
Organic shapes will become big for bathrooms and kitchens. Bedrooms will be designed like luxury hotel rooms, they'll be both practical and beautiful. Private spaces where one can retreat to within the home will become very important.
Fast forward now to 2017; the above photo of the bedroom, shows an upholstered bedhead. Read what Emma Blomfield, stylist at online homewares retailer TheHome.com.au has to say –
"Beds will change dramatically in 2017, with upholstered bed heads set to replace the timber bed frames currently dominating the market. They've been a staple in luxury hotel bedrooms and celebrity homes for a while, but now we're all falling head over heels for the bedhead trend".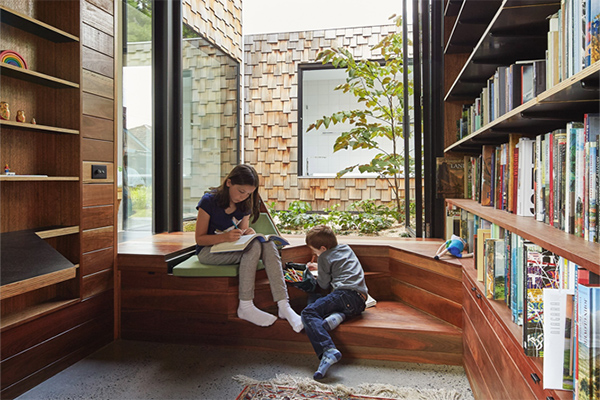 The second photo (above) is titled Escapism, another reference of the need to have private, cocooning areas within our homes. Note too the mix of tactile building materials.
Check out the full article by Domain's Amelia Barnes about trends set to soar in 2017 and you might just find a few more that sound familiar.  http://www.domain.com.au/advice/the-interior-trends-youll-be-loving-in-2017-20160309-gnek90/
Alice bedhead in geneva glacier velvet. Photo: Heatherly Design 
Photo: Tower House by Andrew Maynard Architects. Photography by Peter Bennetts