Interior colour schemes for houses help set the style and atmosphere, providing a cohesive colour palette throughout the home. Selecting the correct wall finishes and colours can breathe life into your space. Interior paint colours can make or break a room, so it's really important to get these selections right.
Have a look at the before and after photos of this project. (Before – below and After above)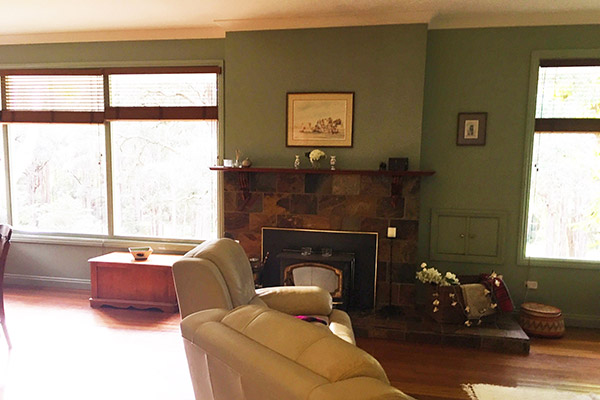 As part of the refurbishment of an older house in Galston, NSW, I for Style chose to use a stunning range of paint colours for the living room. The overall room colour with its existing green paint used on all the walls made the room look dark and unwelcoming (second photo). Added to that, the slate fireplace dated the room, and the clients were debating whether to replace it.
Once the room had been painted with a fresh, new paint colour palette however, not only did it change the whole look and feel of the room; visually opening it up and giving it a modern, airy feel, it also allowed the slate fireplace to stand out as the 'piece de resistance', the focal point of the room.
The paint colour above the fireplace compliments the colours in the slate while the lighter colour on the rest of the walls is the perfect backdrop to the picturesque, rural views seen from the windows.
While the design style you choose has a lot to do with how each room feels, knowing how to select a color palette is the one thing that will pull everything together. Here are  some of our tips on how to choose a successful colour scheme.
The Colour Wheel
Using a colour wheel to identify the Primary, Secondary and Tertiary colours will help you focus on a colour scheme for your project.
Primary colours: your reds, blues, and yellows. These colours can't be created.
Secondary colours: the oranges, greens, and purple. These are colours you can create when combining two primary colours.
Tertiary colours: these are a mixture of secondary and primary colours to come up with unique hues. You use blacks and whites to play with different shades and tones.
Now that you have an understanding of the main colours, it will be easier to create an interior colour scheme that best fits your style and home decor. Here are four distinct colour schemes to choose from:
Monochromatic: uses different tones of the same colour across the room. You can have a dark green wall paint, paired with soft green sofas, and artwork featuring pale greens for example.
Analogous: uses colours that appear next to each other on the colour wheel. For example, yellows can be used with greens or orange to create a colourful and soothing colour palette.
Contrast: here you use contrasting colours, usually opposite to one another on the colour wheel. For example, greens with blues or reds with purples.
Complementary: this is where you use colours that naturally complement each other, they are across from each other on the colour wheel. These can create a more dramatic look. For example, blue against orange is a popular complementary colour.  
Interior Colour Schemes for Houses – Feature Walls
Once you have chosen the core of your colour scheme, you can also select some accent colours for select walls or add a real statement and create a feature wall.
In last week's Social Media posts we discussed how feature walls have moved on so far from the single, "plain, painted wall in a different colour". There are now so many creative options to create a "Wow' factor feature wall, including wallpaper, timber panels, multi-colour painted sections using a dramatic paint colour scheme or adding in some texture to a wall in your space which will add a warmth and help set the tone of the room.
Now that you have a clear idea on what makes up successful interior colour schemes for houses, it's time to create your very own colour scheme for your space. Still a little unsure?To find out how I For Style can help with selecting the right interior paint colours for your home, contact us  or visit us on Facebook.