Innovative design is one of the hallmarks of I for Style's approach to every project we undertake, and the new house being built for our client's in Sawtell, NSW, is no exception. There are lots of innovative designs and finishes being incorporated into the interior and the exterior!
From the outset it was important to the clients that we build some unique design elements into the interior; which comprises a ground floor, first floor and a mezzanine level above. In fact, each level features some clever, fresh designs, such as the master bedroom on the first level (Photo 1)
This light-filled bedroom has a feature wall with vertical and horizontal strips which, along with the rest of the wall, will be painted in Dulux Leadman, a deep charcoal colour. The vertical wall strips sit between the exposed beams on the ceiling so that both of these striking and clever design elements will stand out. The remainder of the walls and the ceiling in this room are to be Dulux Vivid White, as are most of the walls throughout.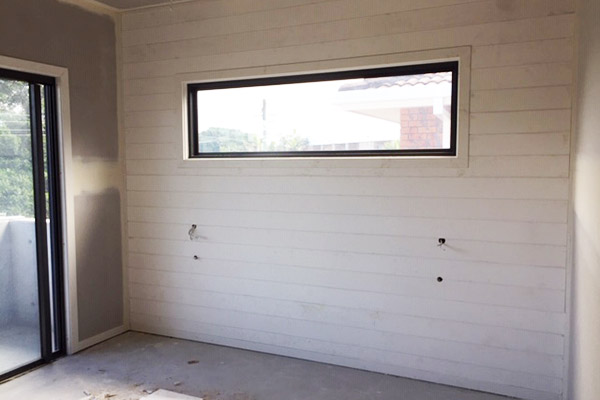 The second photo is a smaller bedroom which has a feature wall with tongue and groove planking laid horizontally. This wall will be painted in a pale blue-grey, Dulux Miller Mood.
To find out more about how I For Style can help you create truly innovative interiors for your home, check out our Projects.