Every home tells a story, and some say louder than others. It's a story of the owners' personalities, tastes, and memories. Homes with character and personality are the most fascinating homes. These are the homes that lift your spirit and enrich your life. The homes that make you feel something.
What makes a home with character?
A home with character:
Is filled with memories – memories from adventures, travel, special moments and people in the owners' lives. These might be mementos from memorable trips, keepsakes from family or friends, unique artwork, and photos. The picture below from this Castle Hill home includes a photograph of the owner as a small child on the bonnet of her Dad's car, and lining the shelves are teddy bears from the owners' childhood. We also wrote about incorporating sentimentality into your home office design in our recent newsletter, read more about that here.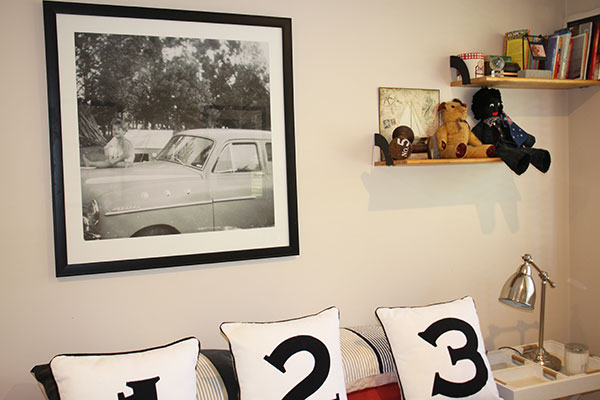 Allows the owners' personalities to shine through – often you can see the owners' interests, passions, sense of humour, and quirks coming through in their home. The use of colours, textures, artwork, furniture, and furnishings are all gateways to their personality. I once stayed in a beautifully restored 19th-century country-style cottage in the Tamar Valley in Tasmania littered with stunning antique furniture pieces and tasteful golf paraphernalia. The owners were passionate about restoring the cottage to its original glory with original antiques from that time, and they were also huge golf enthusiasts who had traveled to every major tournament since they could remember.
Is truly timeless – homes with character are ageless and the feelings they invite endure far longer than any design trends.
How do you create a home with character?
The key to creating a character filled home is layers, and lots of them. Here's some ideas:
Vignettes – these are groupings of meaningful objects, including mementos, clustered together to create a scene. Think artwork, books, decor items, candles, lamps, photos, plants and flowers. The great thing about vignettes is you can re-arrange them as often as you like to create a totally different feeling or focal point in the room.
Texture and colour – Soft furnishings like cushions, rugs, throws, and linens, are a great way to add character and soften hard surfaces such as walls, floors, and furniture. They also help to define an area and make a room look and feel cosy and welcoming.
Plants and flowers – not only great for improving air quality, indoor plants and flowers can help you feel closer to nature and add life to a room.
Unique pieces – homes with character often have unique and one-off elements such as original artwork, prints, and other old and new unique items.
If you're looking to create a truly unique home with character, get in touch to see how we can help.