Published by Lurleen Kirkwood
Posted on
Whether you live in a tiny apartment or house, or you'd like to maximise the feeling of space in your home, here's some simple tricks to help you create the illusion of space.
Mirrors
Mirrors are a great way to enlarge a space but if you really want to make a statement, consider a wall of mirrors! You can still place furniture and art in front of it and the illusion of depth adds a touch of elegance plus the illusion of more light & space.
Choose the Right Lounge
When purchasing a lounge, don't pick one that's large and bulky. It might look comfy but it eats up valuable floor space, literally and visually. Instead select a lounge with thin arms and a low back, the room will instantly feel and look larger.
Lounges with legs will open up the space under the lounge allowing you to see more of the floor making the space seem larger.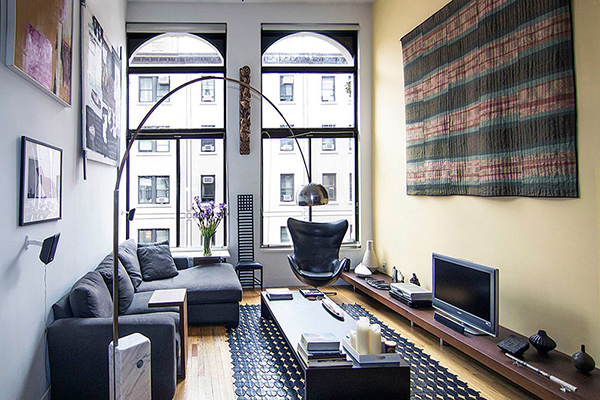 Stripes
Stripes are a great for creating the illusion of space. Go for horizontal stripes if you want your room to appear wider or vertical stripes if you want to visually heighten your ceiling. A thicker stripe always makes a room look less busy.
De-Cluttering
Yep, we're all guilty of accumulating stuff, so occasionally it's a great idea to cull back nick-nacks and ornaments. Your eyes will then focus on the clean, straight lines of your furnishings and room openings, making the space feel larger. Storage options with doors that can be closed will make your room will feel fresh and spacious.
Light Up Your Life
Light, bright colours on wall finishes & furnishings open up a space making it appear more inviting. Allowing more natural light through your windows helps the space feel larger too, so if you can, have your side drapes extend beyond either side of the window so there's less bulk on the actual window. Light coloured curtains, holland or roman blinds and shutters will visually lighten a space and let in more natural light.
With some clever thinking you'll end up with a larger, brighter home that won't break the bank!
Credits:
James Treble
Images:
HomeKlondike
http://www.quiet-corner.com/home-design/make-living-room-look-larger/