For those who love French style and flair, you'll be interested to hear that last year, top quality French furniture makers Grange and interior designer Greg Natale joined forces to create a range of furniture with an Australian perspective exclusively for Domo.
Interviewed by Neil Whitaker, Vogue Living's editor-in-chief, Greg and Frank Novembre, Domo CEO, talked about the changes that have taken place in Australian interior design over the last ten years or so.
Greg says that the look has become much more layered now. We're using rugs, cushions, throws etc to create much more interesting interiors. So who are the major influences for the layered look? It appears that France and America are leading the way here.
Frank from Domo feels that although there's still a huge reliance on Milan in terms of furniture, most of the interest comes from French design trends in terms of colour, fabrics etc.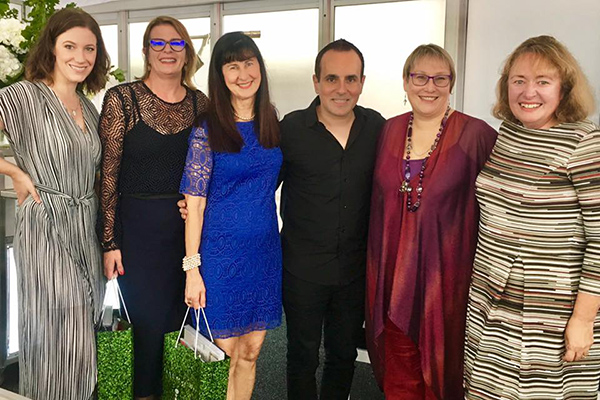 On a slightly different note (although there is a link I promise you), imagine my joy when I received an invitation came from Belle Magazine and Janus et Cie for a 'Luxe Living' alfresco lunch at Darling Point Yacht Club.
I must confess though the fact that it was to be held a week and a half before Christmas had me questioning the wisdom of taking a day out when I just knew I would still have a truck load of shopping to do!!
And who were the guest speakers at this delightful event? None other than Greg Natale and Myles Baldwin, a renowned landscape designer! The photo shows yours truly next to Greg along with staff from Belle and some other interior design pals.