When looking for front entrance ideas that will provide impressive street appeal, a good place to start is to look at existing exterior colours, materials and finishes. Whether you are painting the exterior of your new build or refreshing your existing home, paint colours are one of the most effective ways to add a WOW factor to your exterior colour scheme.
The appearance of our home on the outside is just as important as its appearance on the inside. And there's certainly something uplifting about seeing a house that presents well to the outside world.
Exterior home design with well thought-out colours and finishes are key to lifting any house from ordinary to stunning in the curb appeal stakes!
Front Entrance Ideas
The two properties in the photos are very different from each other but both sit beautifully in their environments.
The first photo is in Vincentia on the NSW's south coast. A new build, this holiday retreat is perfect for a very busy family with three young boys. The modern colour scheme together with the strategic placement of the lovely bluestone cladding perfectly complement one another. Pulling together the house entrance design ideas which incorporated the exterior paint colours and the textural cladding focal points, resulted in a house that has street appeal in spades!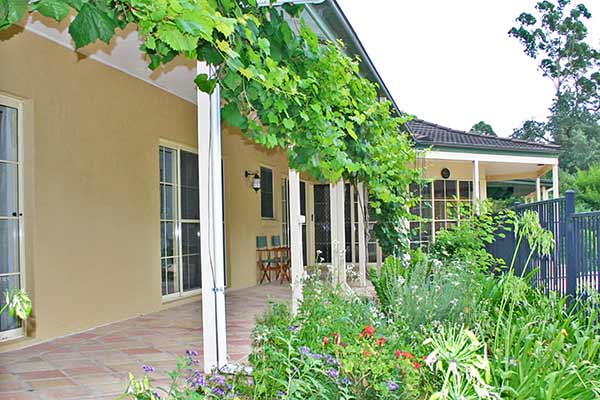 The second house sits on acreage in Dural, NSW and is surrounded by beautiful gardens. A major interior renovation followed by the rendering of the existing exterior bricks completely transformed this rather ordinary looking house into a beautiful home. The colours for the exterior were chosen to contrast strikingly with the vast expanses of green lawn and the lush gardens.
The benefits of having a beautifully presented house that 'lifts the spirit and enriches life' can never be overstated. Last but not least, another important benefit is the fact that a beautifully presented house that sits well within the land or streetscape with stunning curb appeal can dramatically increase the property's value. That, my friends, is definitely not to be sneezed at!
Lurleen is an expert in creating modern exterior colour schemes that have impressive street appeal for your property. Contact Lurleen today to discuss front entrance ideas and exterior colour schemes for your home.
Visit us on Facebook
Photos: I for Style https://iforstyle.com.au/residential