The latest data from the Australian Bureau of Statistics shows we've had the highest inflow of people moving to regional Australia since they started recording the data twenty years ago. So what prompts this escape to the country, and what are the pros and cons?
Why do people move to regional Australia?
There are lots of reasons why people relocate to rural areas. COVID-19 has certainly been a factor. But even before the pandemic began, rising house prices in capital cities saw young people and families migrating to more affordable housing and living. It's common for retirees to also relocate once they're ready to leave behind the hustle and bustle of capital city living.
Lifestyle is also a big factor when people move to rural areas. The pace of life is slower, living can be more simple. Country properties and rural areas often have more space, and you're surrounded by nature as soon as you leave the house.
The pros of country living
If you're thinking about moving to the country, there are so many benefits.
Less stress – Whether it's the slower pace of life, larger spaces, access to nature, or just less noise and traffic, country living can definitely be less stressful.
Sense of community – one of the great advantages of rural areas is the sense of community and connection with locals. You can build strong connections with neighbours and the community, making friendships and supporting each other in times of need. There's often great events in country towns which provide a great way to meet locals, such as festivals and markets.

Affordabl

e housing – for young couples and families just starting out, moving to a regional area means they can get their foot in the door of the property market. According to a recent property report by Corelogic, the average property price for a house in Australia's capital cities was $751,014 versus regional homes at $493,925. This same report found that regional house prices went up to 22% versus capital cities at 18%, which definitely reflects the increase in demand for regional living. It's not just getting on the property ladder that's the main driver either, country homes and properties are often a lot bigger, so there's more you can do to create your dream home.
The opportunity to 'have a go' – without the busyness of city living, there's more time to do the things you love and more space to do them. Want to create your dream garden, keep farm animals for pets or livestock, and have space and time to DIY such as restoring old furniture? These are all options in rural areas. We know a number of our readers are avid gardeners, so check out these 15 magnificent country gardens if you're looking for inspiration.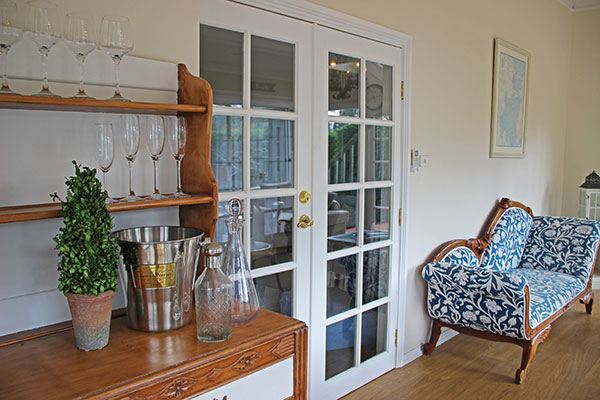 The cons of country living
Naturally there are some downsides to country living too, and although we think these are all workable, it's worth keeping in mind if you're thinking of a move.
Access to services and conveniences – proximity to medical care can be a challenge, and even if you have a good local GP, you may need to travel significant distances to get to specialists or hospitals. Being able to duck down to the shops to grab tea bags when you run out, nip into a pharmacy, or even fill up with petrol, won't be as quick and easy if you're in a remote area. Being well organised is key where you can, and rolling with the punches when you can't, is important for keeping your cool.
Limited job and education opportunities – thankfully this one has changed quite significantly with almost everyone working and schooling remotely since the pandemic. Even before this though, there has been an increase in education options available online such as universities, TAFE's, and colleges. And with more people relocating to the country, there will be more job opportunities in regional towns, and for those occupations where people have been able to demonstrate they can work from home, remote working options will most likely continue.
Small-town behaviour – sometimes, although not always, people from small towns can be more narrow-minded than their city counterparts. And the downside of very small towns can be that everyone knows each other's business.
Finding tradespeople – If you're wanting to get some work done at your property then finding the right people, and working with their availability or pace, can be a challenge. Our advice? Surrender to the notion that things will take a bit longer, but never compromise on quality.
So there you have it, some of the ups and downs of escaping to the country. We haven't even begun to talk about country-style design which has naturally seen a real surge in popularity in line with more people moving to regional areas. We'll touch on that in another blog, for now jump onto our Residential Projects page for some country-style inspiration.