We're nearly into spring and once it arrives, summer won't be far around the corner.
Speaking of which, there's only one way to spend those long, lazy summer days – RELAXING! What better way to do that than spending time in the great outdoors. Here's some quick tips on how to make the most of the holiday season:
Make sure you have an entertaining area that's sheltered from the sun but still allows you to get the maximum benefit from it.
Invest in some comfy outdoor furniture but remember, just because it's comfortable, doesn't mean it can't have personality as well – summer is, after all, about having fun! I just love the Luxemburg and Raw Concrete range from The Urban Balcony in the photos. While we're on the subject of outdoor furniture, it's not a bad idea to have an occasional table too if you have the space. They're great for when it's just the two of you for a more intimate setting.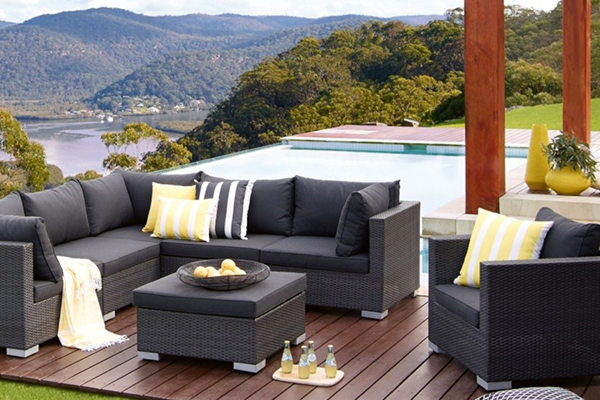 Outdoor rugs are very popular right now and can really help to define a space. If your furniture is brightly coloured, tone down your rug. Conversely, if your furniture is subdued in colour, you might like to opt for a bright, bold patterned rug.
Never underestimate the wow factor of lush plants; they really help set the scene for a relaxed ambience. They're practical too, often providing much needed shade. Whether they're in pots, trailing around the support posts of a pagola or in hanging baskets, they're a must for any self respecting entertainment area.
Lastly, don't forget the candles. You'll probably need some citronella candles to keep insects at bay too. Hanging lanterns with candles inside them look lovely and really help to create atmosphere. And don't forget some for the table and the ground.
Photos: http://bdwooddesign.com/australian-outdoor-living-furniture-plan/21339/