The right curtains or blinds are hugely beneficial for your home. They provide privacy and insulation – an interesting fact is that up to 40% of heating or cooling can escape through uncovered windows. To top it all off though, curtains or blinds will make a huge difference to the overall look and ambience of your home. So, it's important to get it right!
The photos show the master bedroom of a house in Galston, NSW. The house is nestled amongst beautiful trees and rolling hills, so the client and I agreed that we needed to make the most of the views.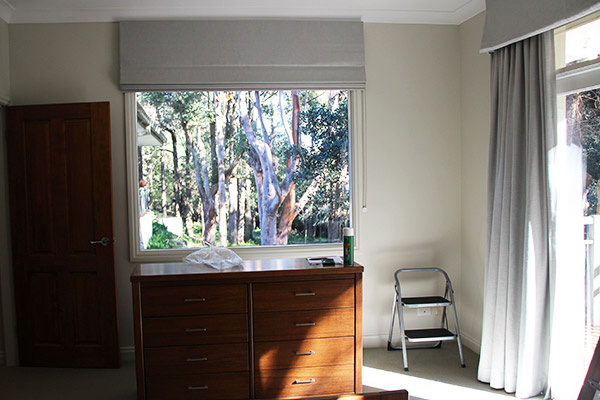 Curtains were chosen for the large windows and sliding door. The pelmet above the curtains serves two purposes; not only does it up the elegance factor, it also further helps to insulate the room. For the two side windows, roman blinds were chosen, because of their practicality and of course for the view.
I for Style took the photos during the installation of the curtains, pelmet and roman blinds, working with More than Curtains.
To find out more about how I For Style can help you create beautiful, functional window furnishing, contact us.