Create some WOW factor with your Christmas table setting this year and make it unique to you! Remember you don't need to spend a lot of money – sometimes the simplest things have the most impact. The article photos show two very different table settings; one is more traditional looking and the other has a decidedly more modern take. With the tree all decorated which typically sets the theme for the whole house, Christmas shopping done, presents wrapped and the chaos leading up to Christmas almost over hopefully, now is the time to plan your Christmas table decorations.
This is the final task so you are ready for the celebrations and sharing of food with family and friends. Whether you're imagining something simple and understated, traditional, contemporary or even big, bold and beautiful for this holiday season, there is so much fun to be had creating the perfect setting for your gathering. Traditional schemes tend to include red & green, red & gold and white & gold combinations, whereas more contemporary schemes include brighter pops of colour, such as purples and pinks accented with silvers and greys, or a calm, blue coastal theme is very appropriate for a warm Australian Christmas. We have a few easy Christmas decor ideas that are sure to get your creative juices flowing…
Christmas table setting ideas
Decide where food will be served.
Will you serve the food at the table or from a buffet or similar. This will determine the space available for Christmas table décor to be displayed.
Lock In Your Colour Scheme
Be adventurous! Why not inject some bold, modern colours into the mix. Stick to three or four colours, one of which is already used as an accent colour in the room, that way it provides a connection to the room.
Begin with a table cloth or just a table runner if you prefer. This forms the base of yoursetting. Next add your placemats. We used round, cane placemats in  our first table settings. Serviettes/Napkins, Christmas crackers and personalised name tags all add different textures and are a great way to add in pops of colour to accentuate your colour scheme.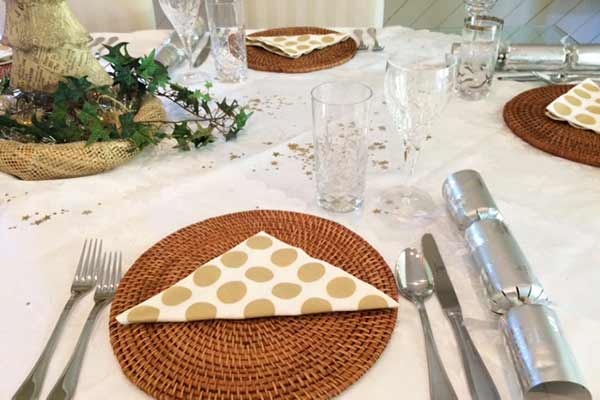 Use some items that have special meaning to you and your family. The lace  tablecloth and silver cutlery set in the first photo belonged to my mum-in-law who gifted them to us when she went into care. It's a great way to honour her and the memories we have of her over the years.
If you're going to serve from the table, place your dinner plates on each setting, layer them up with side plates and bowls needed for all of your planned courses and then add in your drinking glasses.
Now it's time to create your centre piece. This is where you can really go to town implementing your ideas for christmas table decorations to draw people to the table with a creative display! Using fresh foliage or pieces from nature adds a really nice touch for a modern look. A word of caution here, don't overcrowd your table, you need to leave room for the gorgeous food and so that people can eat comfortably. Once you've finished your Christmas table setting masterpiece, take some photos of it but above all, ENJOY the day! Contact us if you're looking for an Interior Designer to help you create stylish, unique interiors. Visit us on Facebook or Instagram to see recent projects.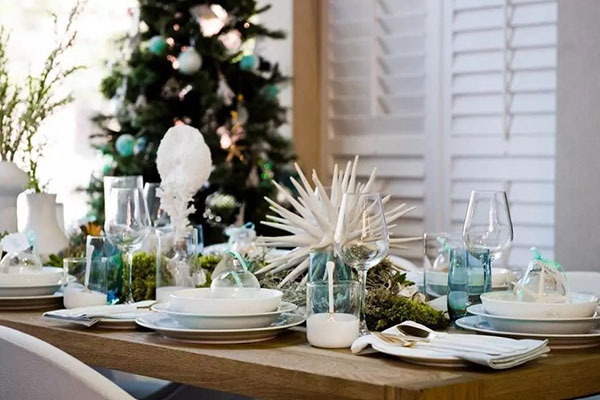 Photo Credit: https://soho.com.au/articles/christmas-table-decoration-ideas