Published by Lurleen Kirkwood
Posted on
Contemporary Bathrooms don't have to be boring bathrooms. Far from it! Contemporary Bathrooms can be filled with loads of character and even exude a touch of the dramatic, as our clients' bathroom in their newly built house in Sawtell, NSW shows.
So just how can you incorporate character and pizzazz into a Contemporary Bathroom? Here's some tips to get your Contemporary Bathroom singing:
Have a Focal Point or Two
Think of it as the leading actor and/or actress of a great movie – it's a focal point that grabs our attention. In the case of this Modern Bathroom, there are two focal points really; one being the black tiled feature wall and the other is the spotted gum timber vanity. But remember that if you do have two focal points, it's important that they work well together.
Supporting Roles
Choose a couple of items for your bathroom that compliment, but don't compete with, the focal point/s. In this case the mirror and floating shelves (made from the same timber?) play strong supporting (pardon the pun) roles.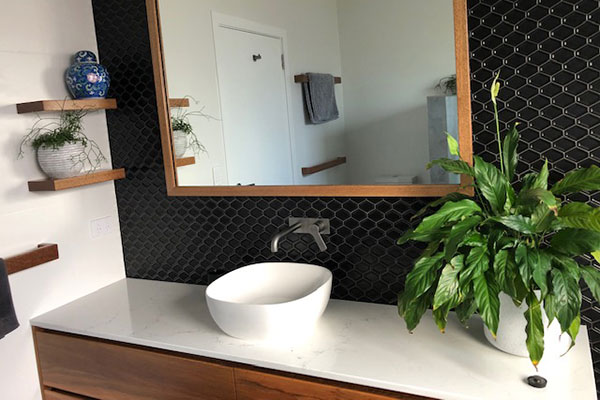 A Balancing Act
Now it's time to pull it all together.
To calm the strong colour palette in this bathroom down a bit and add an elegant touch to the overall look, the vanity top in Caesarstone White Attica fits the bill beautifully! The warm white background with deep grey and charcoal veining throughout link really well with marbled concret look of the floor and bath hob tiles.
_______________________
For a bathroom that ticks all the boxes, these three principals apply whether you have a modern bathroom or a more traditional bathroom.