Yes, that's right, colour has a psychology! This means that colour has the ability to evoke certain emotional responses in us.
This is the reason why we can feel uncomfortable being in a room that has a northerly or westerly aspect when it's painted a warm colour. In the Southern Hemisphere these rooms receive maximum sunlight so painting them in a warm colour, for example yellow, can immediately make us feel too hot! Conversely when a room is facing east, where it only gets the weaker morning sun it's a good idea to paint it in a warm colour to avoid any chilly responses!
The tone of a colour (which basically means the lightness or darkness of a colour) is also important. If a room receives a large amount of natural light, it can look stunning when all the walls are painted in a dark, cool colour particularly when teamed with lashings of white in the skirting boards, architraves, doors etc. The addition of white window shutters can also help to balance strong colour.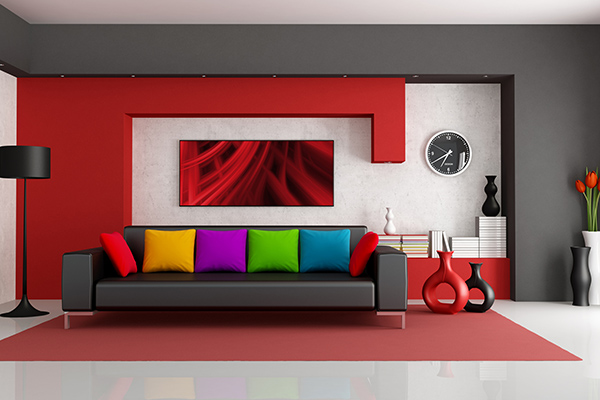 Warm colours like red, yellow and orange tend to have a stimulating effect whereas soft greens and teals have a calming influence on us.
Colour isn't just about walls though. Floors, furniture, curtains, cushions and artwork all contribute to the look and feel of an interior space. If a room looks a bit flat try making small changes first, for example add a bold patterned cushion in a bright colour.
Colour is a wonderful, relatively inexpensive tool and if used well it can completely change the look and feel of any interior space.
Photos:
Cuckooland
Domainiom: http://domainiom.com/design-interiors-2/great-design-interiors-new-at-concept-gallery-design-ideas/