It's not every day a girl gets to wander through the White House so it was with much excitement that I looked forward to doing just that on our recent holiday in Washington DC.
The day arrived and from the first glimpse I was enchanted! From an interior designers perspective the various rooms were a wonderful example of understated elegance and classicism. The sheer scale of each of the rooms was awe inspiring.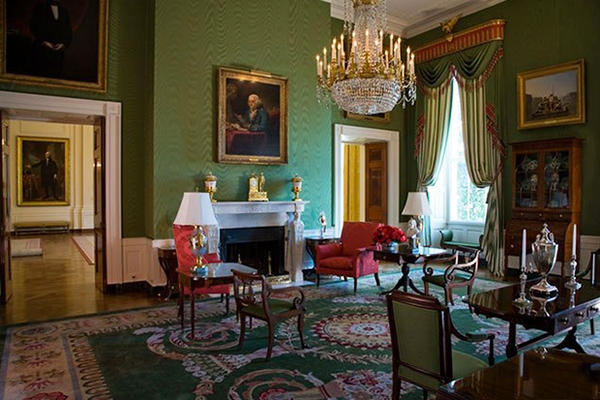 Window furnishings were exquisitely tailored. Walls were either painted in bold, vivid colours with decorative wallpaper friezes or soft, neutral colours that highlighted classical rectangle mouldings and intricately carved columns and plasterwork. Moiré wallpaper is used in one of the rooms (second photo) and even the French art of tricking the eye known as trompe l'oeil was cleverly incorporated in one of the rooms. Cornices and ceilings also had highly decorative plaster detailing.
Furniture was a mix of elegant and finely detailed antiques with a mix of American, English and French. Every day fresh floral arrangements adorn the rooms.
All in all a wonderful experience!!