Published by Lurleen Kirkwood
Posted on
A few weeks ago we did a blog about the revamp of a client's master bedroom. We'll I'm happy to report that it's now complete and is looking pretty schmick!!
With this particular project, some renovating was required. The first priority was to remove a couple of walls including an awkward, angled wall, and replace them with a new, larger wall. This wall would accommodate built-in joinery for a new gas fireplace, TV and open shelving either side. The luxury of having a fireplace in a modern-day bedroom is an idea that's catching on and it's an idea not to be sneezed at (pardon the pun), especially in winter! Even better if it's a gas fireplace that lights up and warms up with the touch of a button.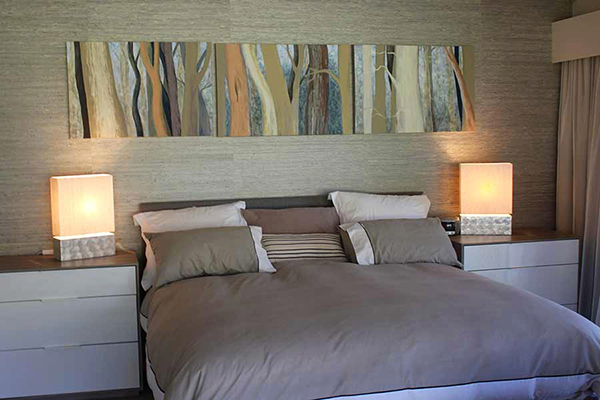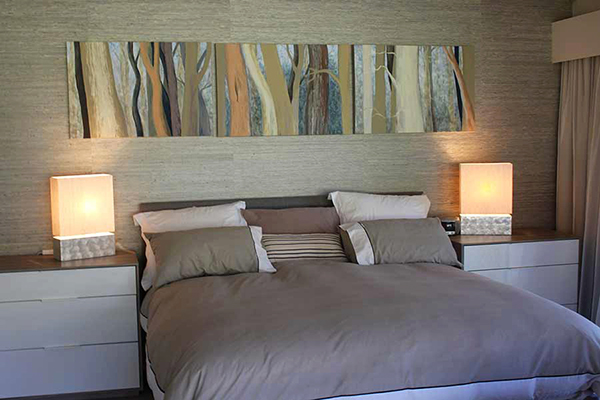 Once the renovations were complete, the refurbishment of the remainder of the bedroom could commence. Walls were freshly painted and a stunning grass-cloth wallpaper by Vision Wallcoverings was installed. Next came the laying of new carpet followed by sheer curtains with a lining sitting behind the sheers for privacy. And last but not least, furniture, artwork and styling.
This result is a visually modern, clean lined and open space.
I should add that our clients did get to reap the benefits of the fireplace towards the end of our southern hemisphere winter!
Photos: I for Style