Published by Lurleen Kirkwood
Posted on
Wallpaper has made a huge comeback in the last few years and I for one am pretty happy about that!
Wallpaper is perfect if you're looking to create mood and atmosphere. It can create an illusion of light and space or it can envelope a room, making it seem more intimate and cosy. It can add a textural element to an otherwise ordinary room. And it's oh so easy to achieve a unique and highly individual WOW factor to your home!
Another really cool thing about wallpapers or wallcoverings (as they are sometimes referred to), is that you can be really adventurous how you use it. Think of some exciting and innovative ways; for example, part of a wall, ceilings and even doors!
If you're looking to go bold like the Timorous beasties in the first photo, maybe just one use it on one wall, part of the wall or behind a door. If you love texture then consider a grass-cloth wallpaper (check out the photo in last week's blog). It can look wonderful used on all the walls in studys/home offices or lounge rooms and formal dining rooms. Some of the deeper, moodier colours are perfect if you have a good level of natural light and it will really make a statement if you paint the doors, skirting boards, architraves and ceiling in a crisp white. Got high ceilings? Cover it with a wallpaper in just one room.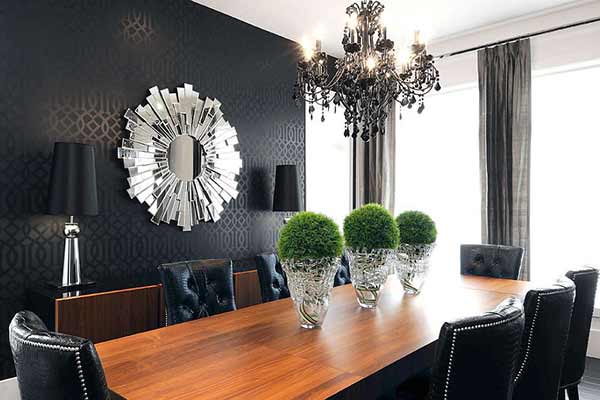 There's so many ways to use wallpaper so keep an open mind about it because whatever your tastes are, there's a wallpaper to suit you.
Photos: Indie Wood by Timorous Beasties www.timorousbeasties.com/
Atmosphere Interior Design https://www.decoist.com/2015-04-30/dining-room-wallpaper-ideas/